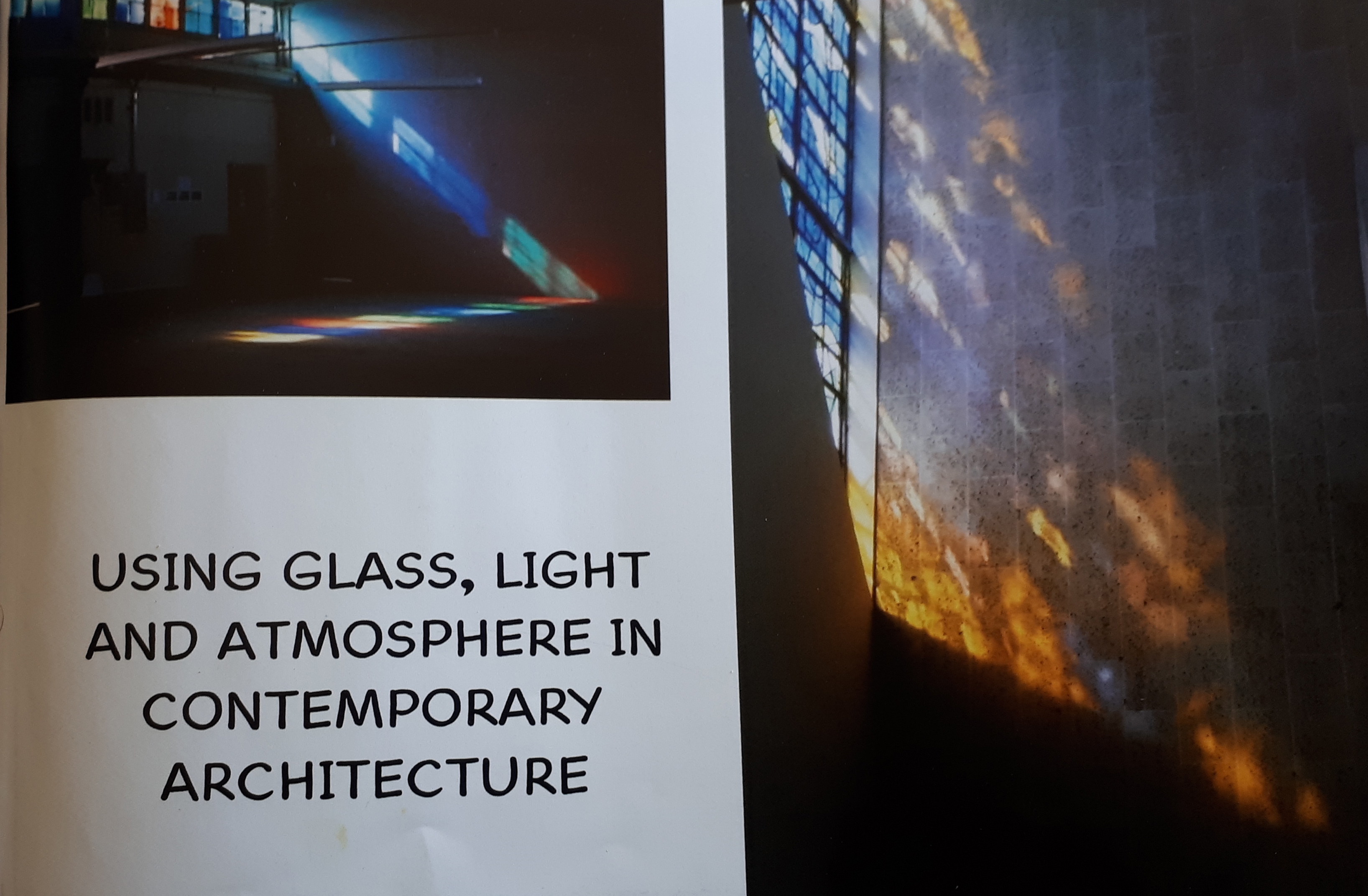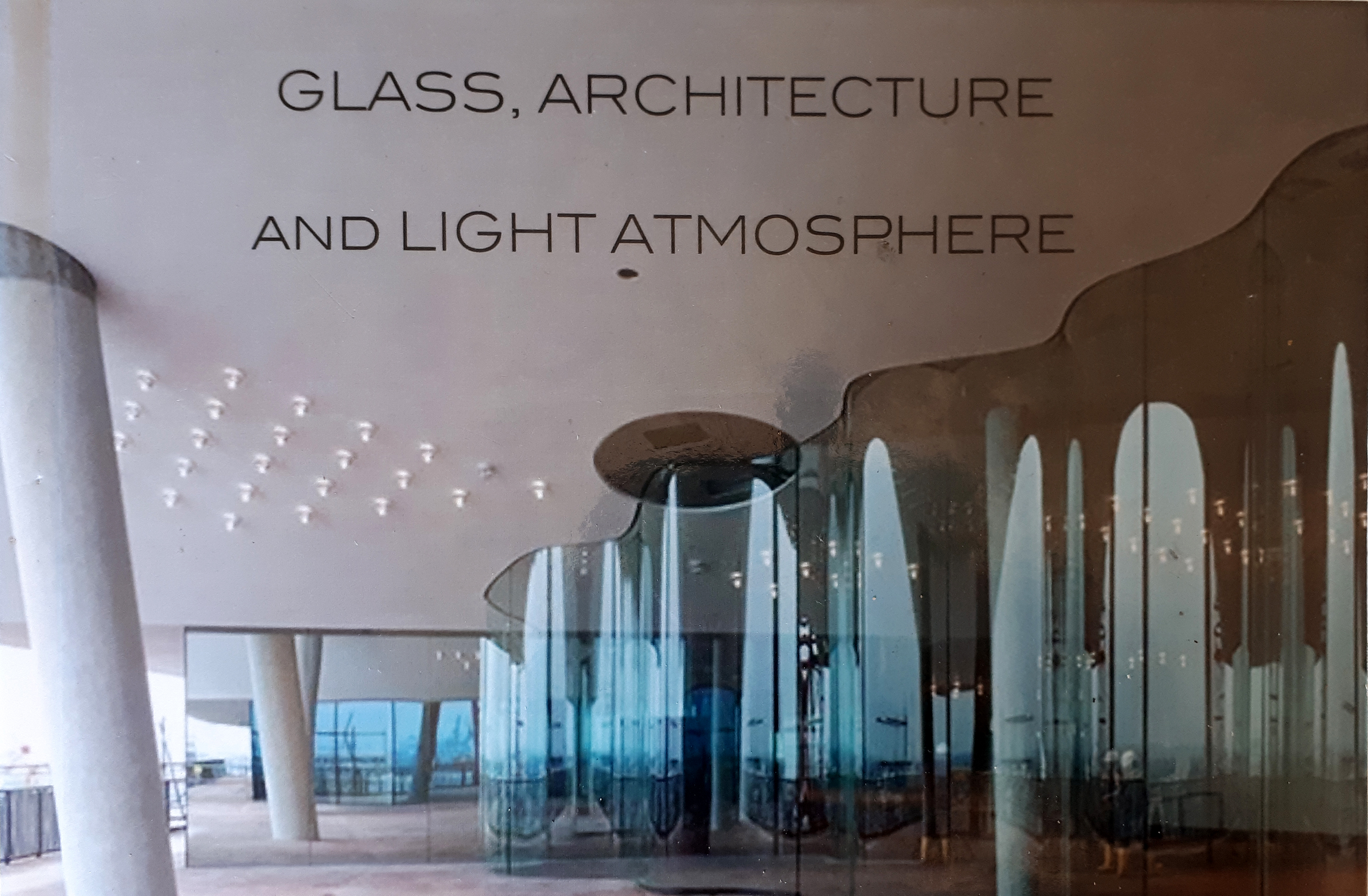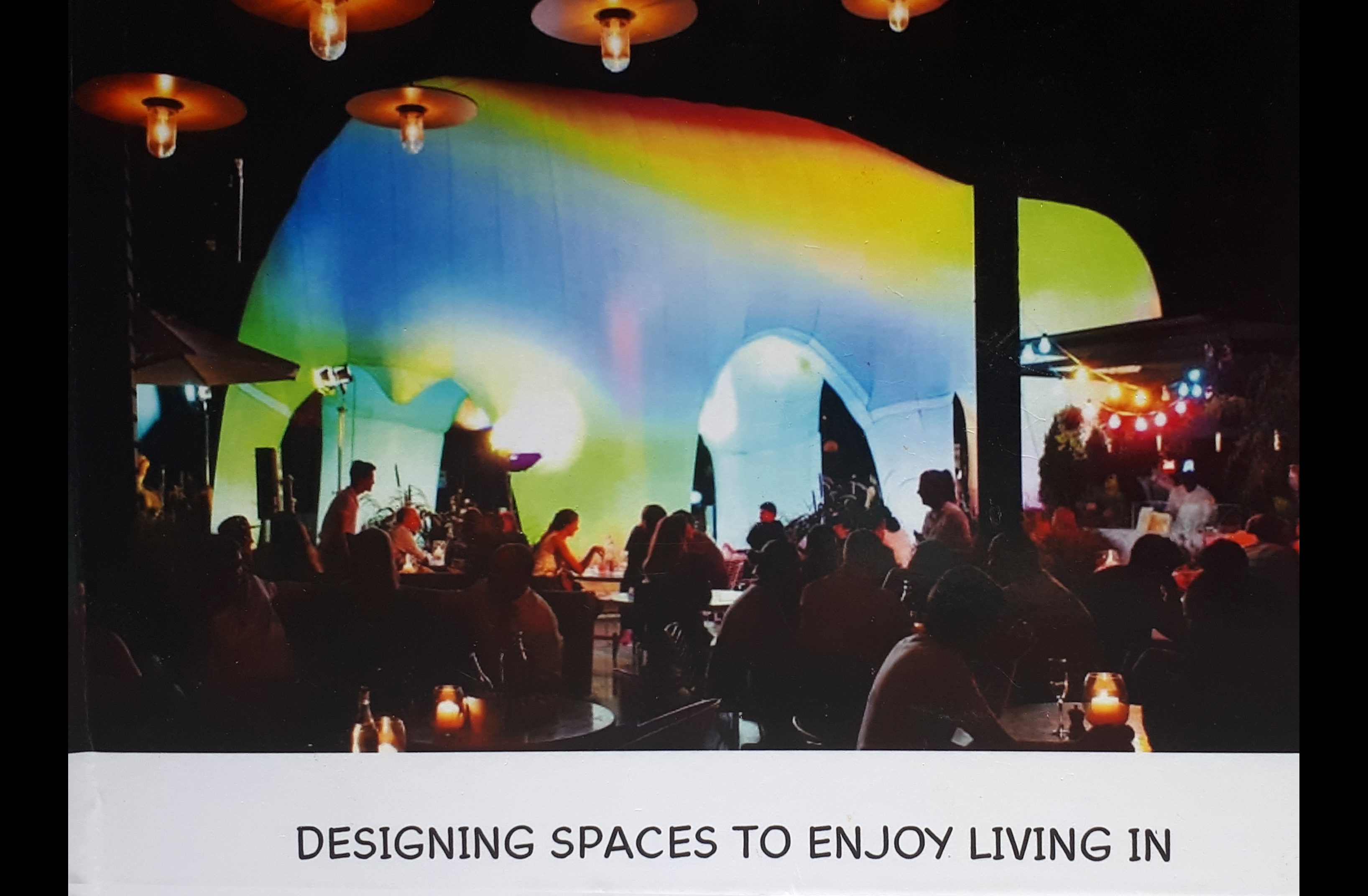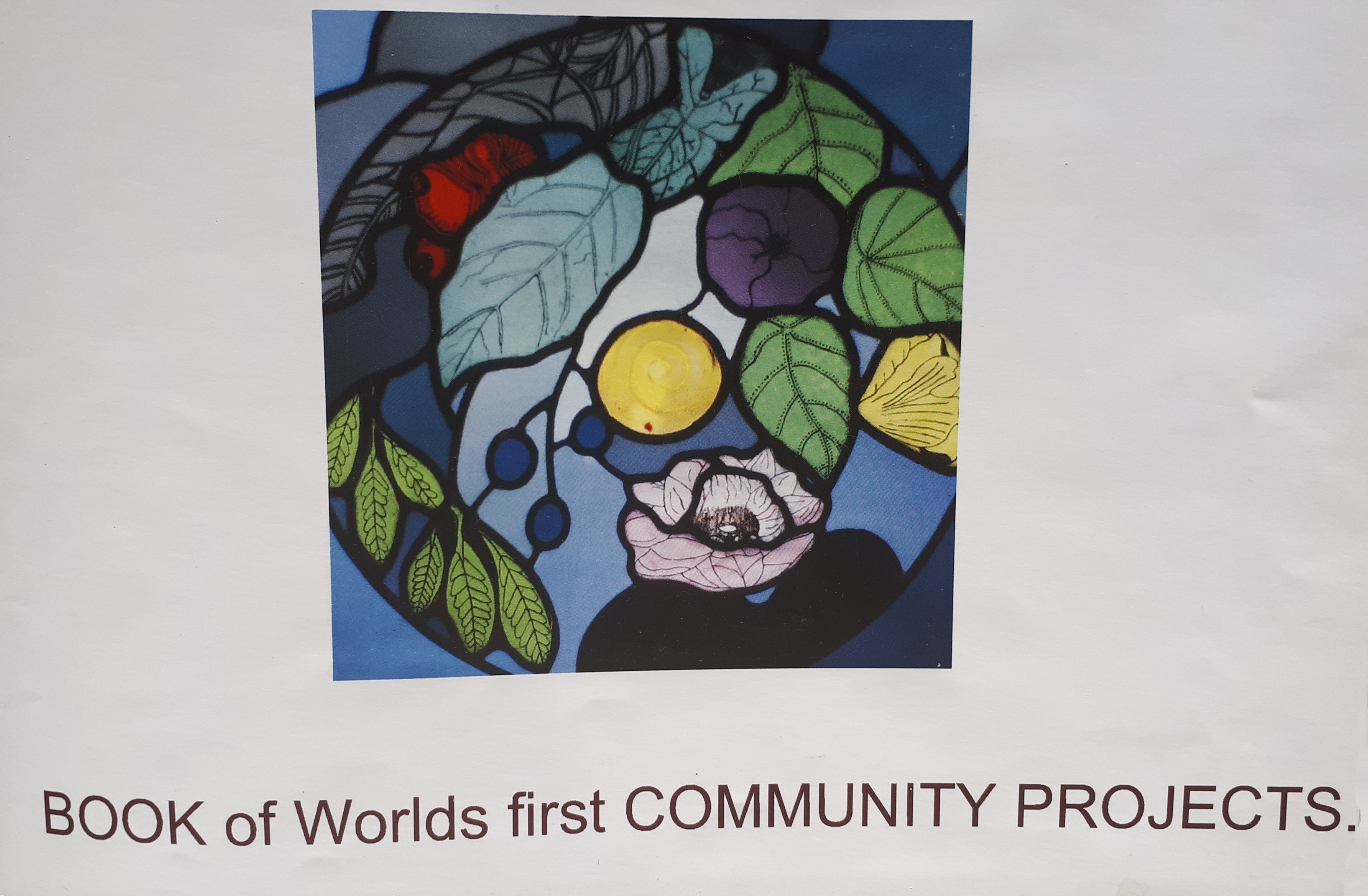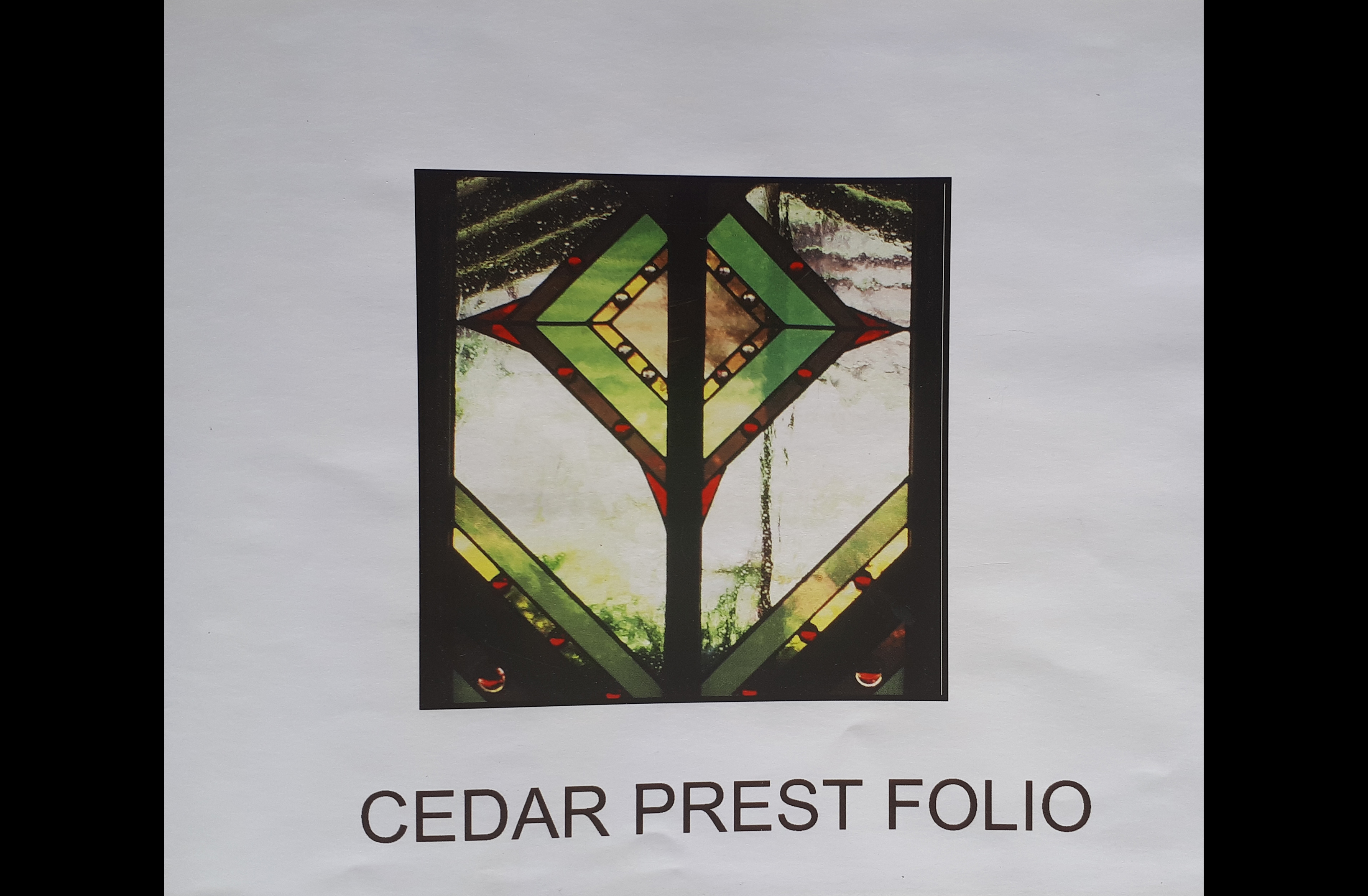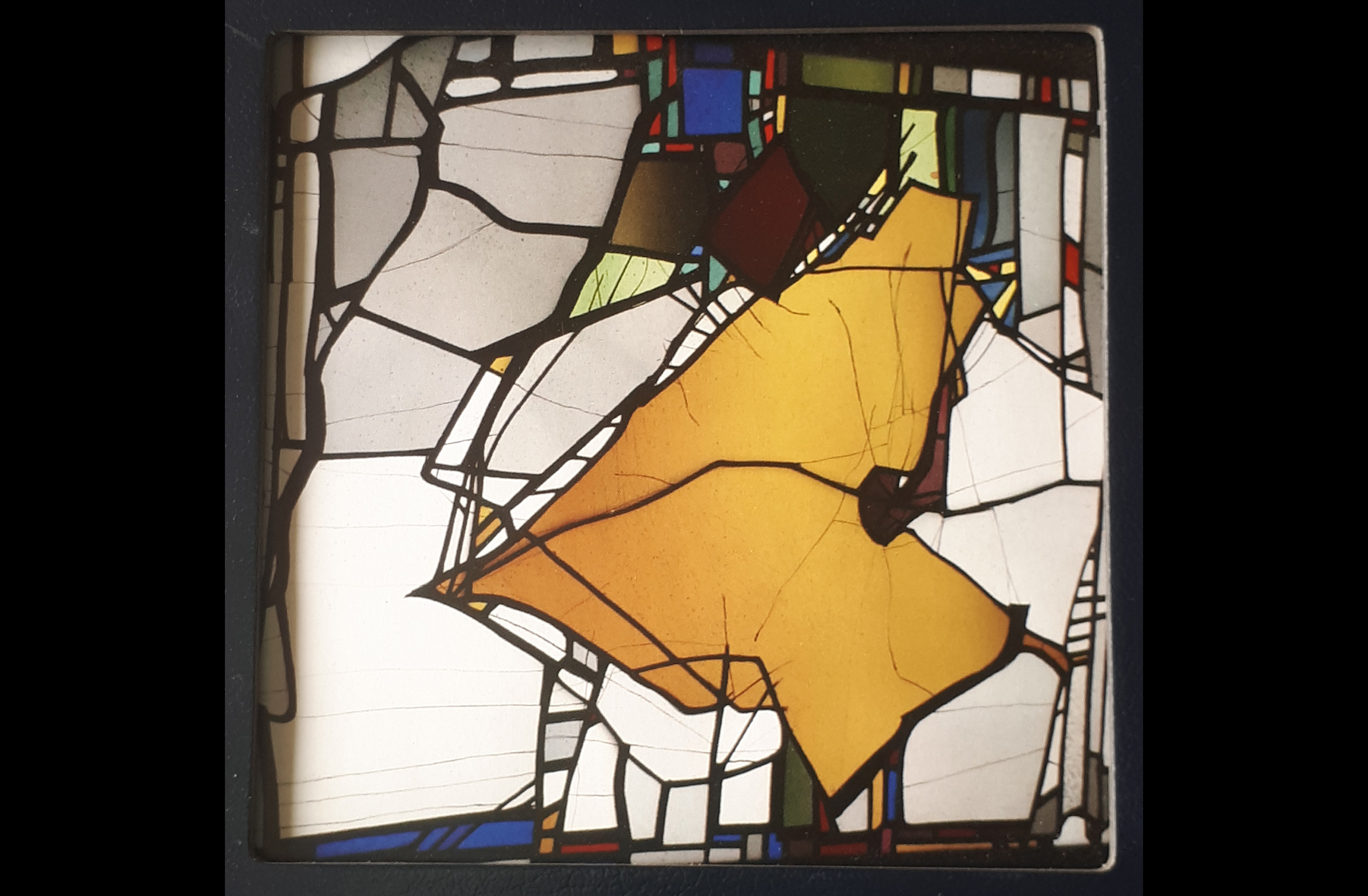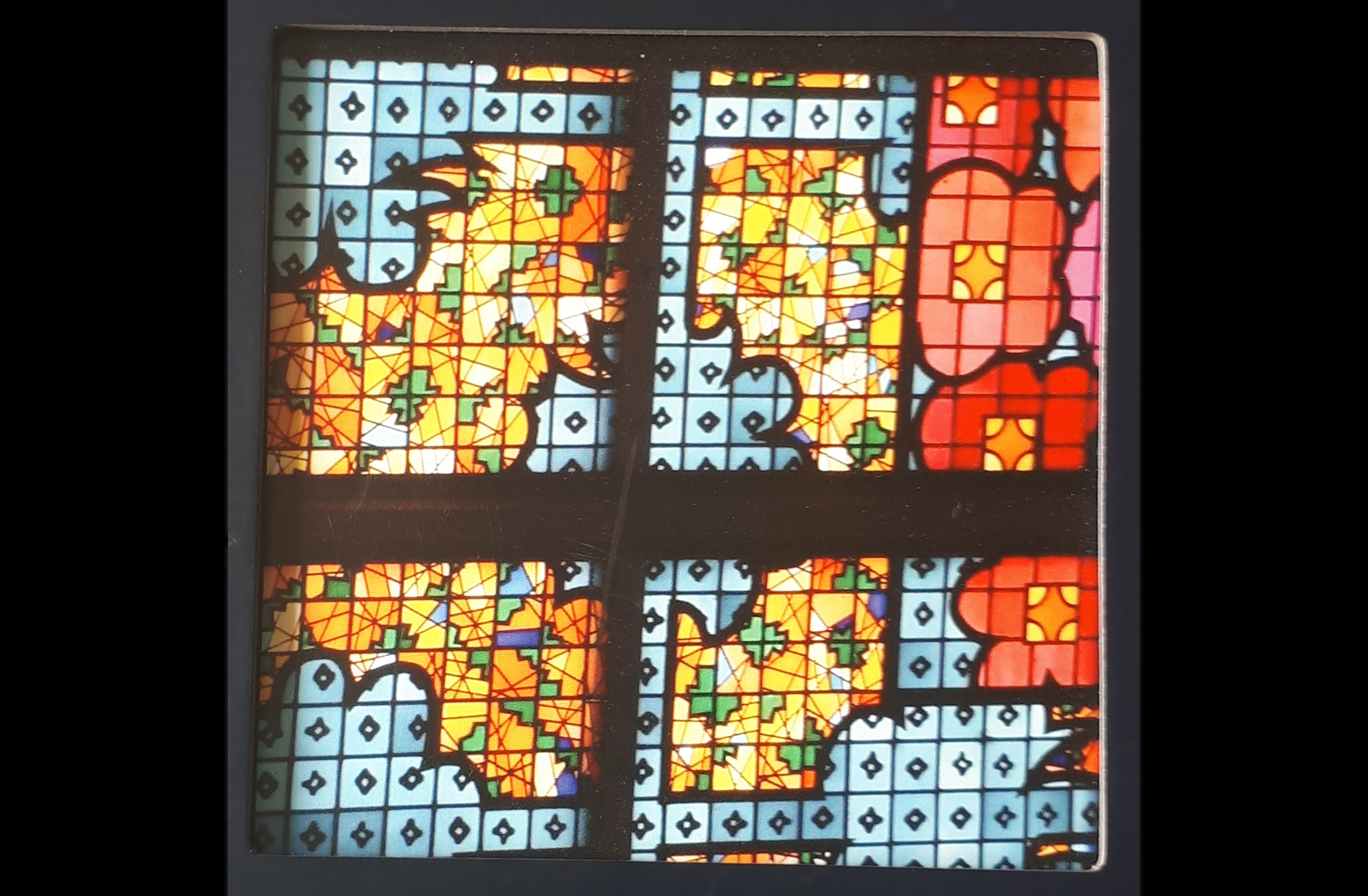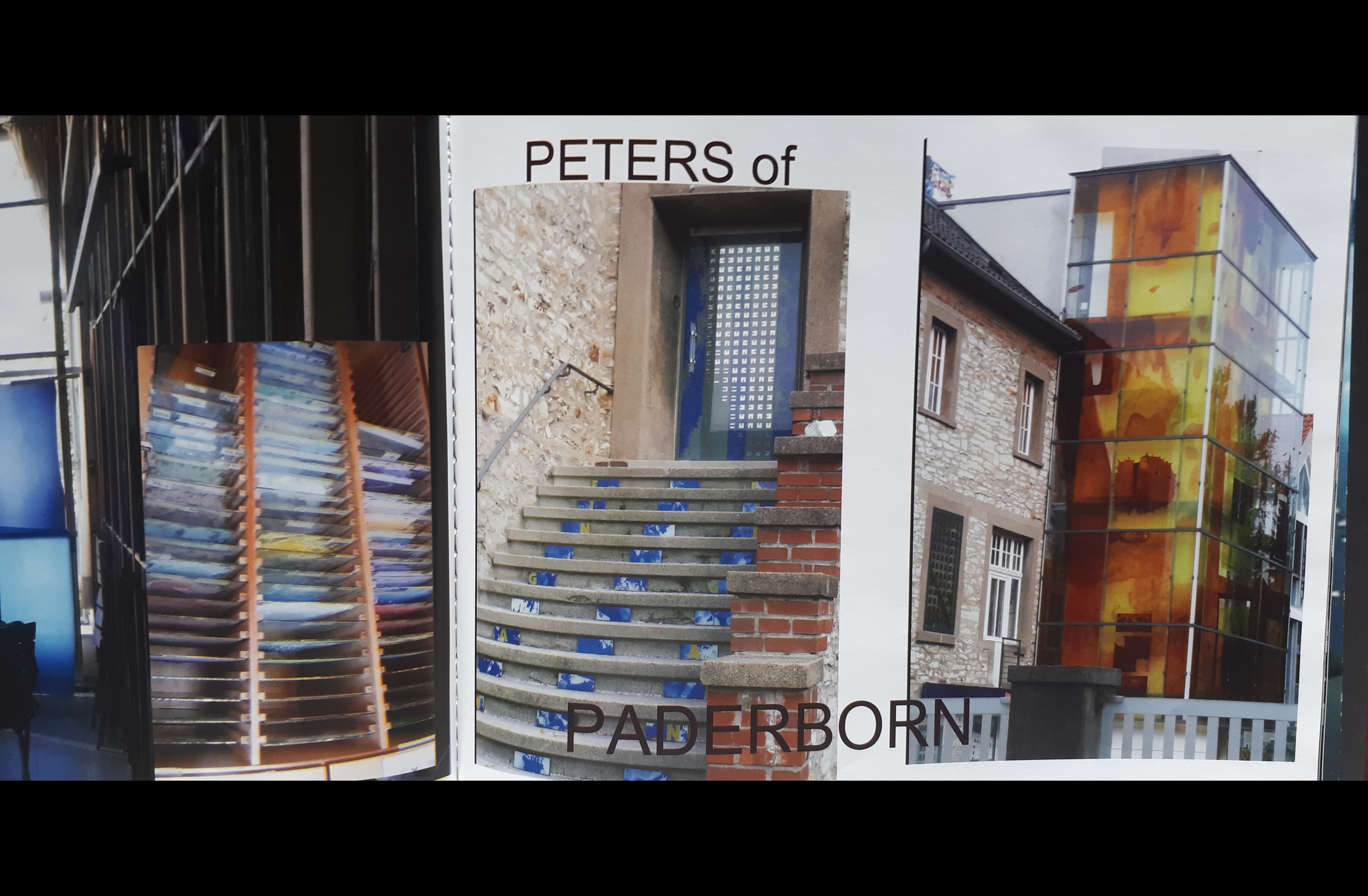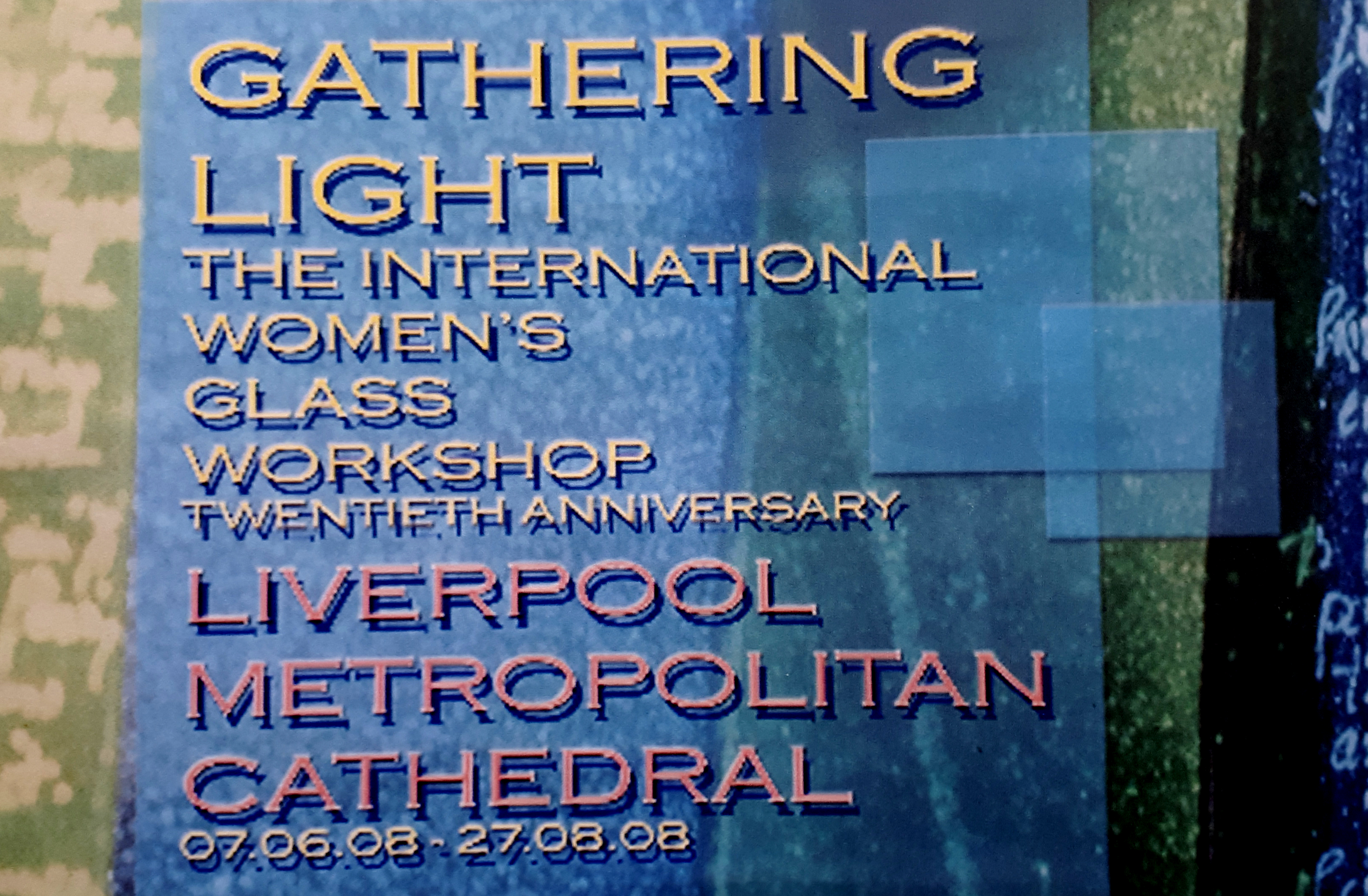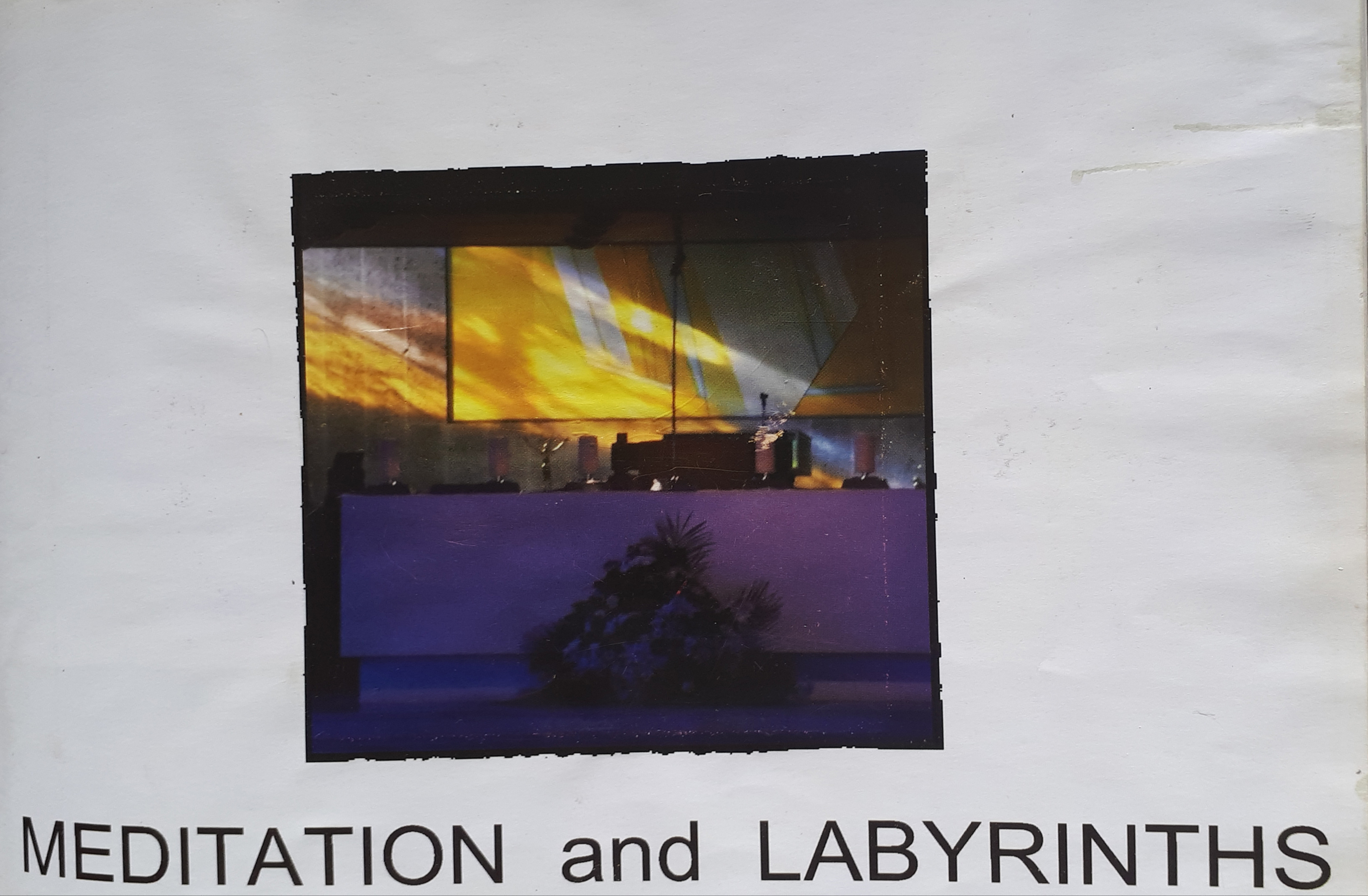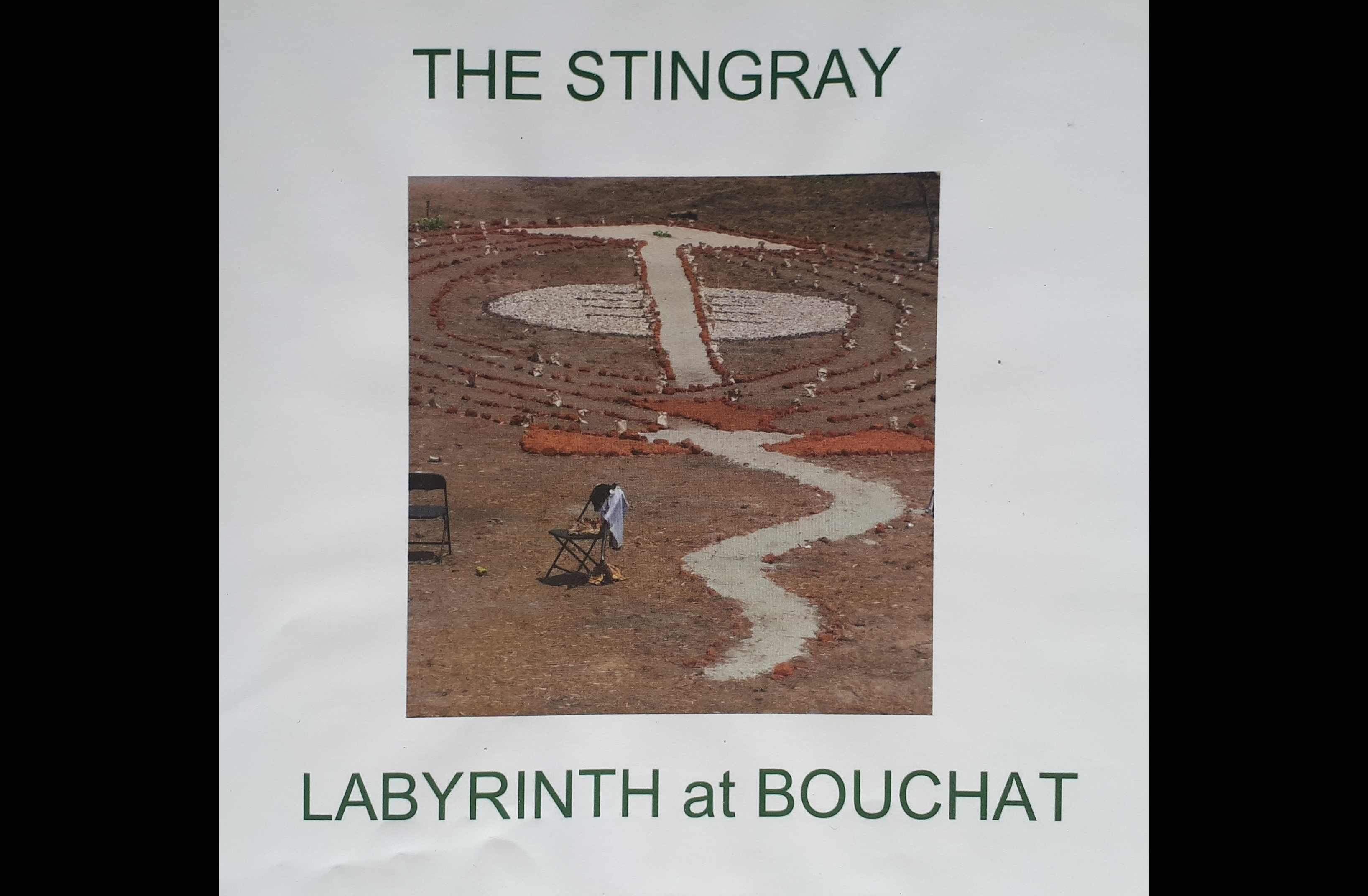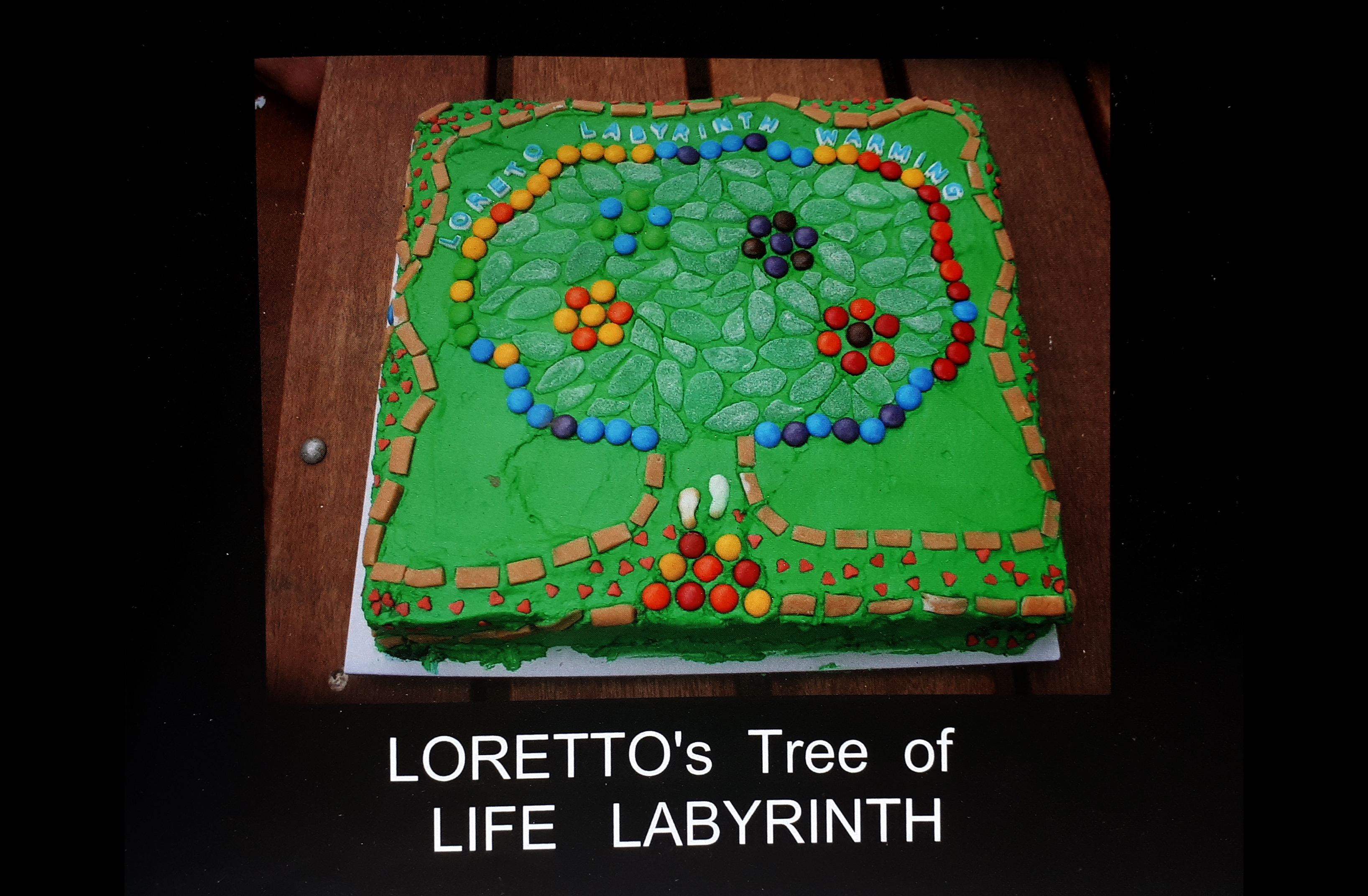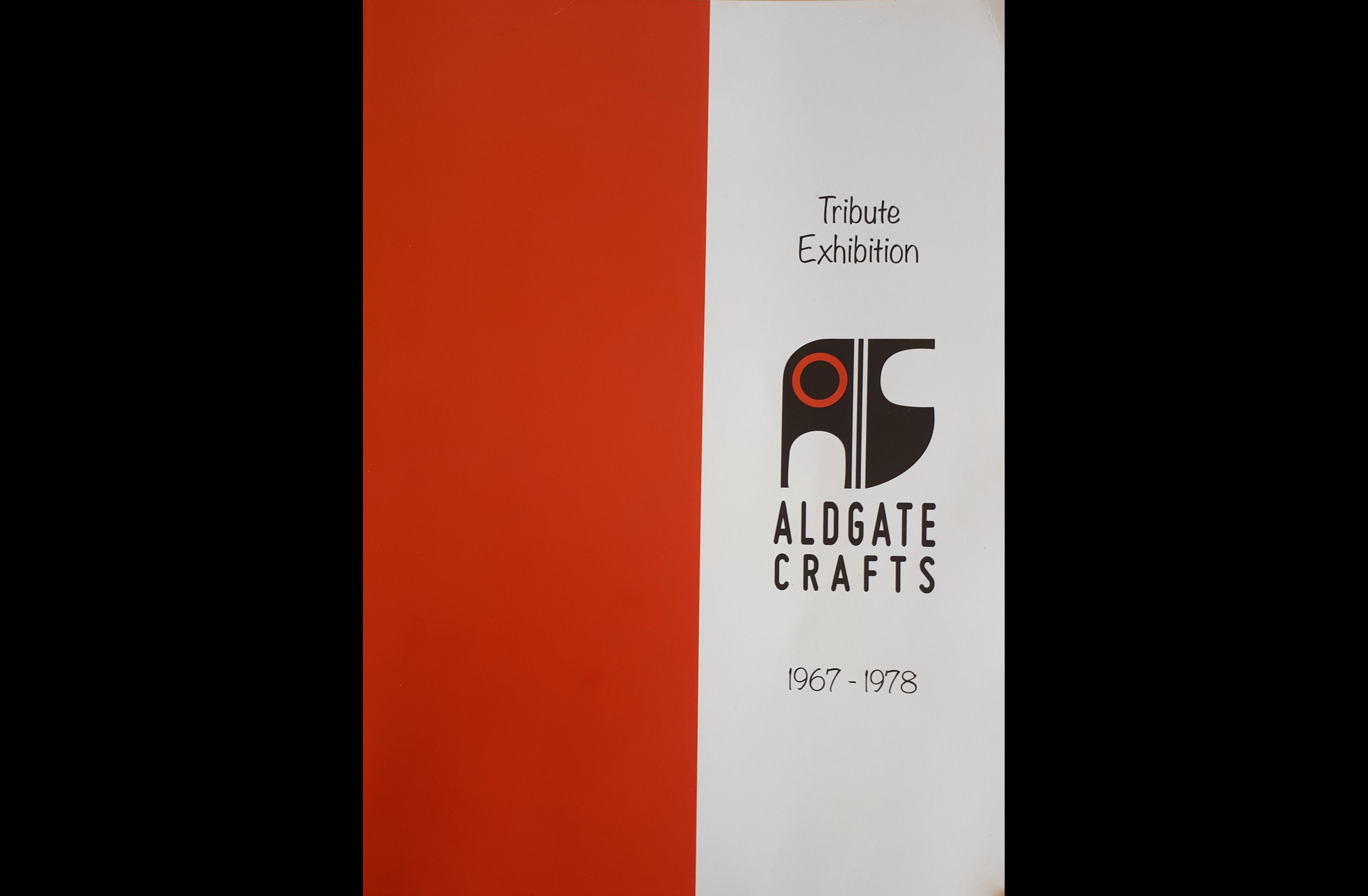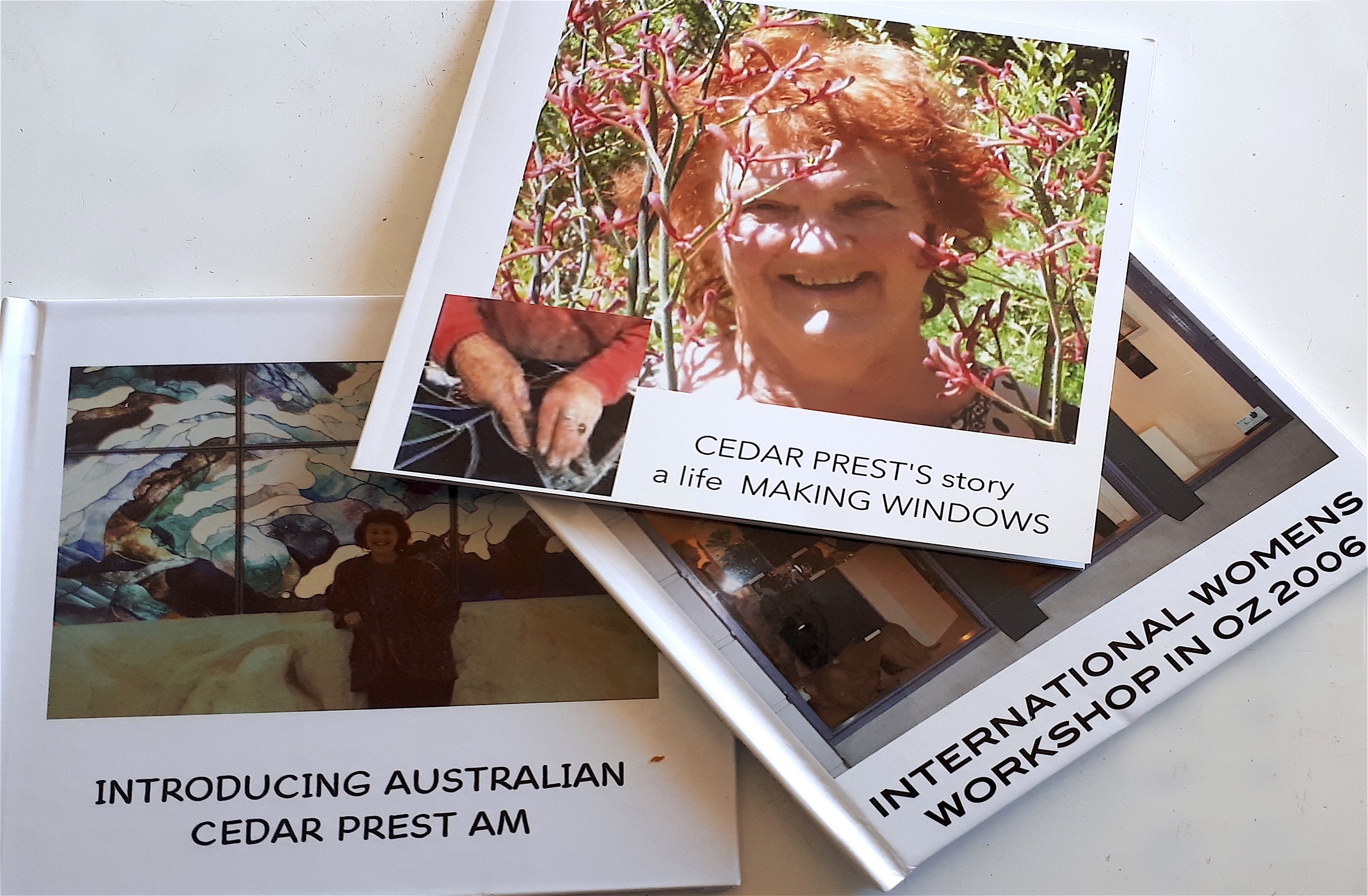 USING GLASS, LIGHT and ATMOSPHERE in CONTEMPORARY ARCHITECTURE (2017)
Glass, Architecture and Light Atmosphere.
Exploring how to design for enjoyable spaces.
Book about the Community Glass Projects
Portfolio of selected Glass Commissions by Cedar Prest.1998
Modern Glass windows in Germany
Contemporary Stained glass in the Koln area.
My Stay at the Peters glass Studios at Paderborn 2008
The Exhibition in Liverpool Cathedral 2008
Meditation and Labyrinths.
The Stingray Labyrinth Project at Bouchat.
Making the Loretto School Labyrinth.
Tribute Exhibition Catalogue of Aldgate Crafts (1967 - 1978)
Several books about the work of Cedar Prest.














Many articles have been written about my work over the years, which are be listed below.
In 2016 I self published a book tribute to Aldgate Crafts, which was established by Rhonda and Keith Ogilvie and Molly Bennetts in Adelaide in 1967 to promote and sell fine quality handcrafts. For eleven years these passionate, caring people sought out makers in the community and encouraged them to display their work to an eager new audience. It was watershed moment for the Australian Craft movement. The SA branch had just formed in 1967. There was an outpouring of creativity using many materials . I spent time with Rhonda's suitcase archive and set out to find the 110 exhibitors and invite them to show their work in the wonderful Tribute exhibition held at the Visitor Centre McLaren Vale 2015.
For the past four years I have been trying to distill my working life's experience designing glass to belong in architecture and bring happiness. into a book for the next generation of glass designers.
It's not about me so much as wanting to share questions I have about how we live and work happily in architecture. Basic things like why do we build houses to face the street and not to benefit from being able to sit in the morning sun facing a garden and drink coffee? We are building shimmering sculptural architecture with all sorts of glass skins but on the inside working conditions are bedlam like the floor of the stock exchange!
Why are we not translating that light into a positive creative workplace?. The first skyscrapers accommodated the first office typing pools surely we can design differently for this new digital age now. Who enjoys working in a hermetically sealed cage with no fresh air? The one thing I have learned as a stained glass artist is to manipulate colour and light to create an appropriate atmosphere for the use of the building!
I need help with introductions to a publisher -writing letters goes to trash before anyone realises it might be addressing a relevant gap in a market! Is life's experience just another plastic bag in the ocean?

So much has changed since I struggled find a place to learn the "lost art" in 1963 and unfortunately stained glass did not remain compatible with post war architecture. Glass clad sculptural forms were on too large a scale for leadlight. The German Architectural Glass movement designed a way forward using a metre square glazing grid but really the challenge of colouring the large sheets used today is still not yet met satisfactorily. Technology has produced huge sheets which can reflect and absorb heat but only Schott and Vanceva are offering limited colour.
My aim is to bridge a gap between books published on Stained Glass Design and contemporary Architecture. Stained Glass is an art form seriously out of connection to modern glass buildings, yet it is the tool for transforming the atmosphere inside as the light pours in.
I look at the history of glass architecture and stained glass windows to understand where the partnership to deliver light and atmosphere diverged and why? What might be appropriate ways of delivering good design for better living and working conditions today? How do we care for ourselves and the planet?
There are no "How to" books on designing with coloured glass for our current glass environments, but there are picture albums of the many glass artists out there working. Some new techniques and combinations, but nothing to make me think that any convergence with the architects to produce a great atmosphere for happy living is happening. Both parties are happily pursuing their own visions and not collaborating.
Currently I make my experiences and themes in the form of Snapfish photo books in order to see the words and pictures work together and develop themes.
I am excited by the recent advances in glass technology which enable even more design flexibility and alignment with the architecture. The technological revolution that made sheet glass a major structural and visual component of today's architecture has not been connected to many artist designers who can direct the quality of light in those buildings to create better atmosphere in which to live and work.
With changes to climate and the digital revolution our lifestyles and working habits need to interrogate accepted Architectural norms.
I have spent most of my lifetime trying to dispense with lead, if it is inconsistent with the building and its use. Now it is possible to design with broad brush strokes more freely and to bend the surfaces with fusing for a more sculptural look. The future looks even brighter!
With changes to climate and the digital revolution our lifestyles and working habits need to interrogate accepted Architectural norms.
It's a challenging century, when what we choose affects all living creatures on the planet. I see the opportunity to reinvent Stained glass as a mood enhancer. I've always compared my artistry to that of a Theatrical Lighting Designer. It's important to combine forces with Urban planners, architects, interior and garden designers at this stage and provide an educational field which can support an inventive, problem solving generation of students to design our environment to fit changing lifestyles and climate. I am very committed to teaching to encourage a high standard of design for purpose and changing architecture.
While I passionately want to see the endangered craft of stained glass continue to be available to students, I believe it is essential to explore all ways of producing a warm friendly atmosphere in modern architecture. This uses large scale glass curtain walls as cladding not windows that open in walls. Contemporary interiors are light, bright and white, rather sterile. The scale is huge making people feel dwarfed and herded together. We have to include all 5 of our senses? This is just the point in time where glass design needs to pair closely with architecture to solve a disconnect which happened after WW2 and the first glass curtain walls. Central to the issue is SCALE.
Leadlight does not work in vast contemporary spaces. In recent years innovations in sheet glass production have enabled colour, heat management, insulation and privacy. It's possible to design large scale sandblasting, lamination and enamelling. Many artists are innovating but we're not quite there. (See Mayer of Munich's projects). Control of sunlight to create positive colour and moods has to become forefront with the planners. This is the subject I wish to see incorporated in all Architecture schools….So much so, that I have been writing a book and am seeking an editor/publisher.
Allied to this it seems timely to interrogate our house and office design. Lifestyles are changing quite rapidly in response to digital and robotic innovations. Needs are changing in response to climate change, the high cost of housing and education and broader sexual acceptances. Parenting and earning are now shared roles, searches for healthier and happier lifestyles are challenging traditional farming and working practices.
"Me too" suggests a much more inclusive world. Issues of inequality threaten a "fair go for all".