I fell in love with stained glass by studying medieval history at university and later visiting European cathedrals. Seeing the dark rich glass telling stories symbolically in glorious patterned metal armatures. It was the light atmosphere they produced which fascinated me then and drives me now. The ability to manipulate the light coming through a window with glass and paint to make reflections on the floor which set the atmosphere for the buildings function.
There was no training available to women then in Australia, but I found a place in two London Art Schools in 1965 and later in the studios of Patrick Reyntiens and Laurence Lee (of Coventry fame) 1971&5. I was excited by the beautiful modern work commissioned for the church by Pere Couturier in the 1950's and later that of the post war German designers Meisterman, Schaffrath, Schreiter, Buschulte, Poensgen and Katzgrau whose work I got an early Australia Council Grant to study in 1975.
This resulted in the world's first Community stained glass projects as I searched for a way to introduce the architectural glass approach of Germany and its translucent opal and opak glasses to Australia. The process began at the Parks community centre in 1979 where 5 sites totalling 110 sq.m were made by 80 volunteers trained on site. The success of this public art work dedicated to "being Australian where we are" led to further projects in the cultural centres of regional areas like the Riverland, Whyalla and Alice Springs. Here I was able to experience the landscape with locals who knew it and help translate this sense of place into the windows. In Alice Springs this included Aboriginal children from Yirrara school and later women from the Larapinta town camp. These community projects gave access to any who volunteered to learn the craft and resulted in great local pride in a meaningful public artwork. This work then broadened into Art and Health or Art Therapy with voluntary work in the Pain clinic at Memorial Hospital 1994, with Birthing midwives from Queen Victoria Hospital 2000, and at the Hospice at Daw Park Repatriation Hospital. 2004-5 The next move was to study Art as meditation with the assistance of a Churchill Fellowship in 2002/3 at the University of Creation Spirituality in Oakland and to become a Labyrinth Facilitator at Grace Cathedral, San Francisco, 2002 with a follow up workshop in Chartres in 2004
There have been 12 projects in all, exploring regional identity. I have always wanted to reflect my country in my work and to tell the bible stories in an Australian context. The development of symbols and the interpretation of archetypes to serve this generation seems appropriate work for me. People like to see the cultural threads weaving back in history and stained glass is the perfect medium for this.
There has been a consistent history of working as Artist in schools to make windows Yirrara 1985, Pedare 1998, Pembroke 1999, Loretto 2000 and Tanunda 2001 and recently labyrinths at Northfield Primary 2004 and Loretto college 2007.

… explore and enjoy.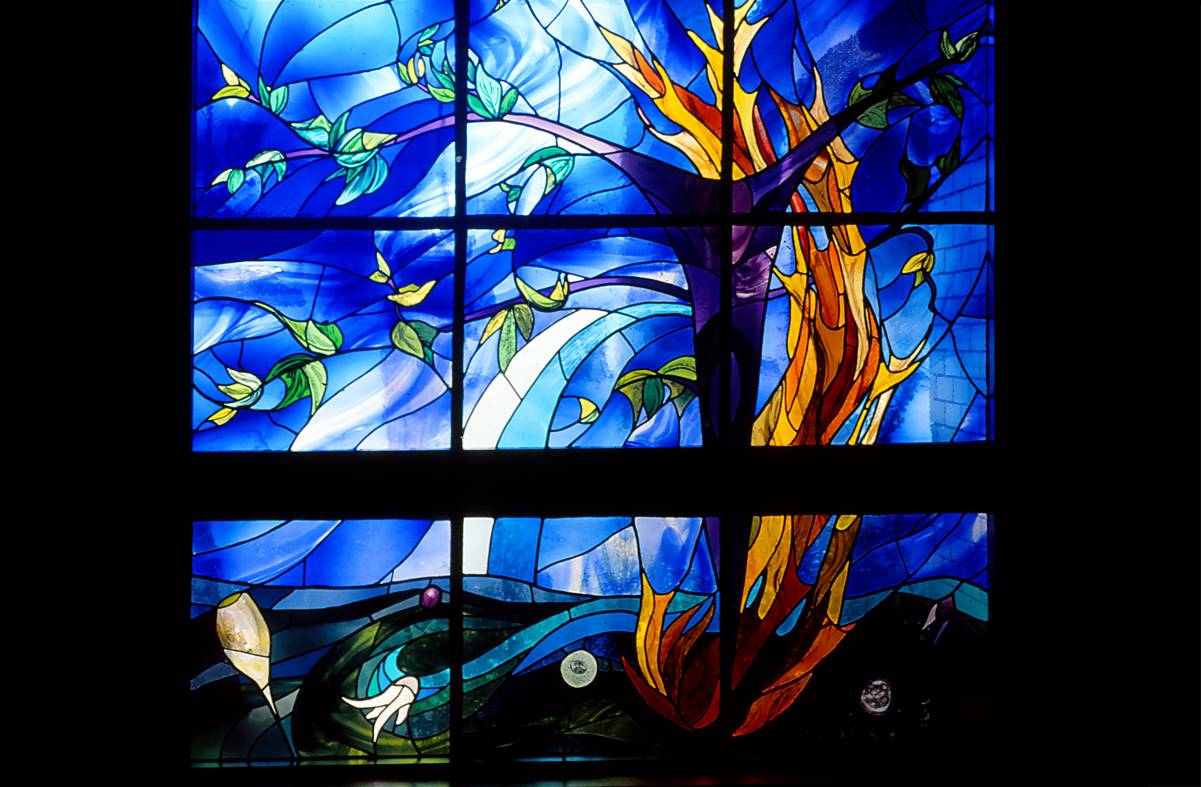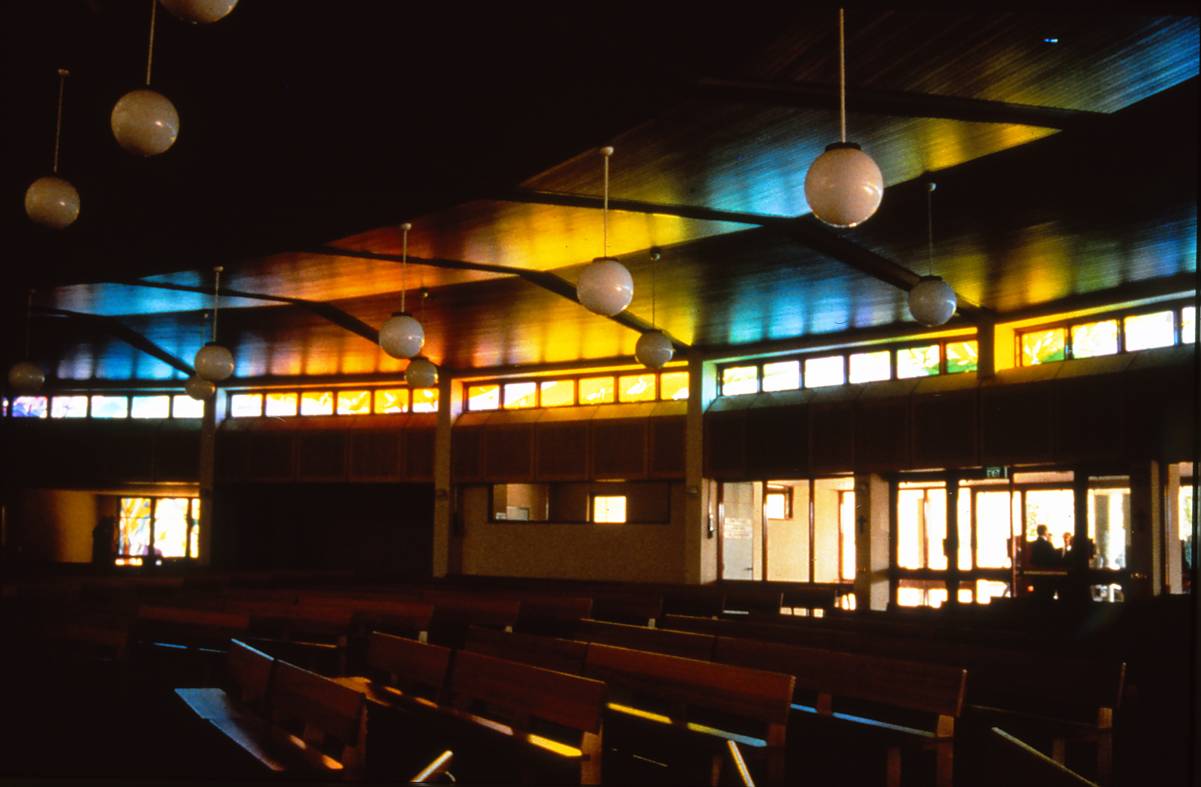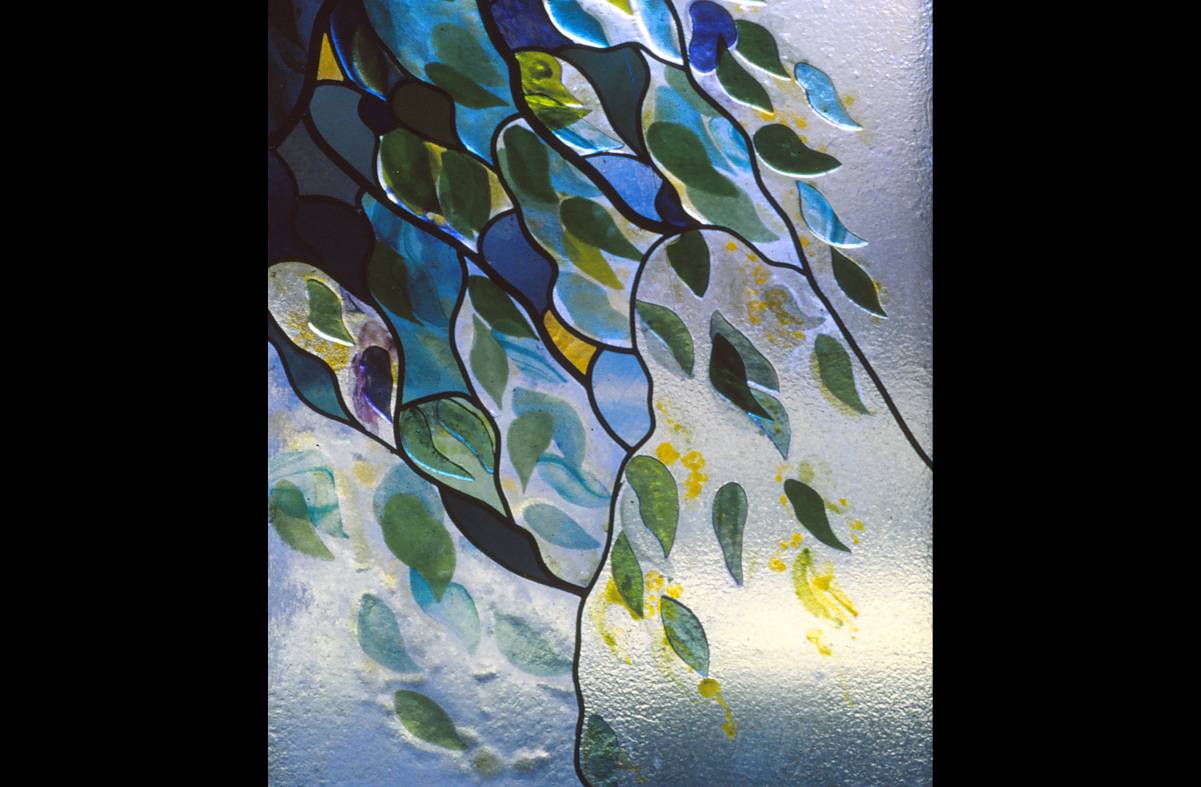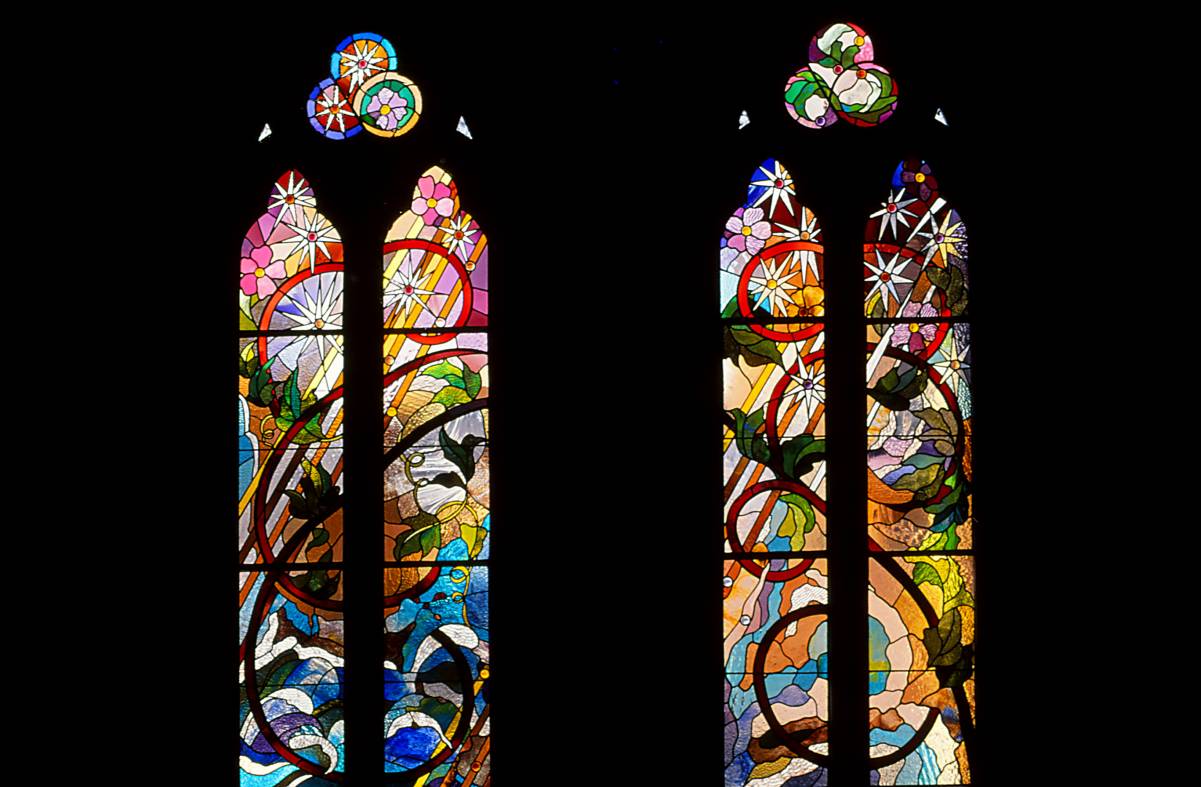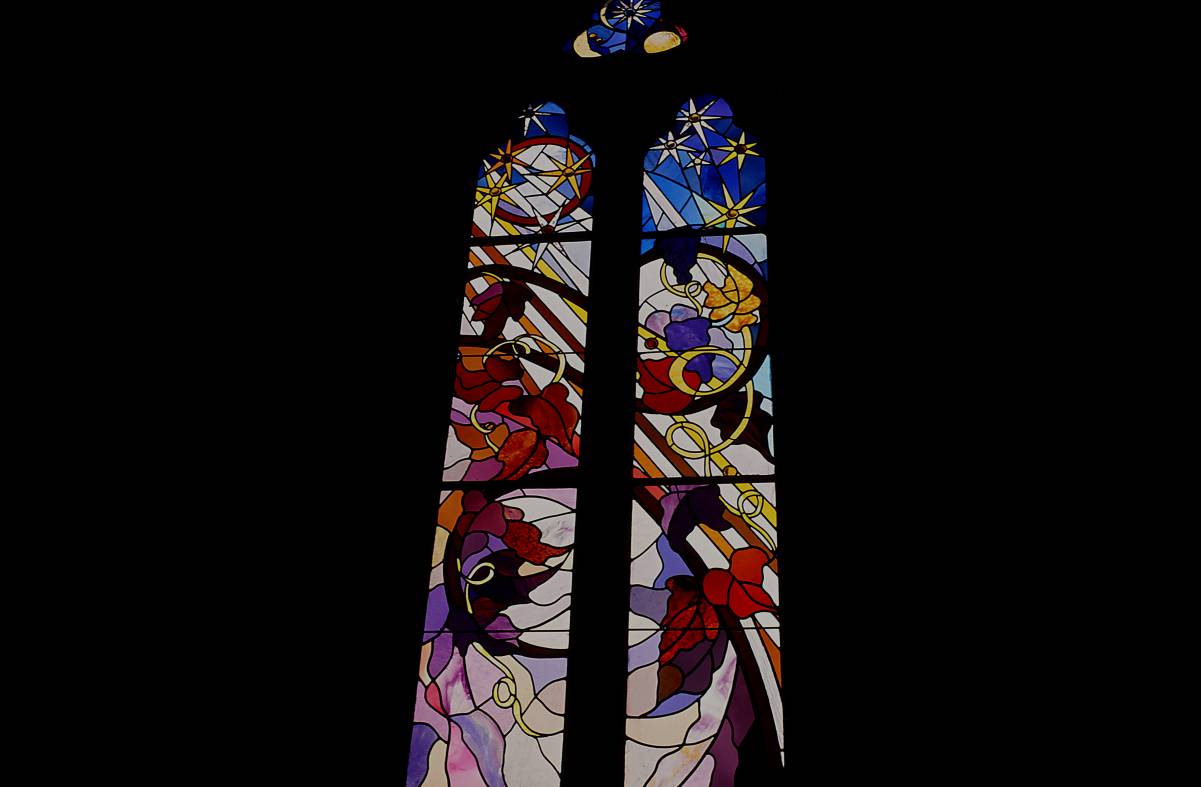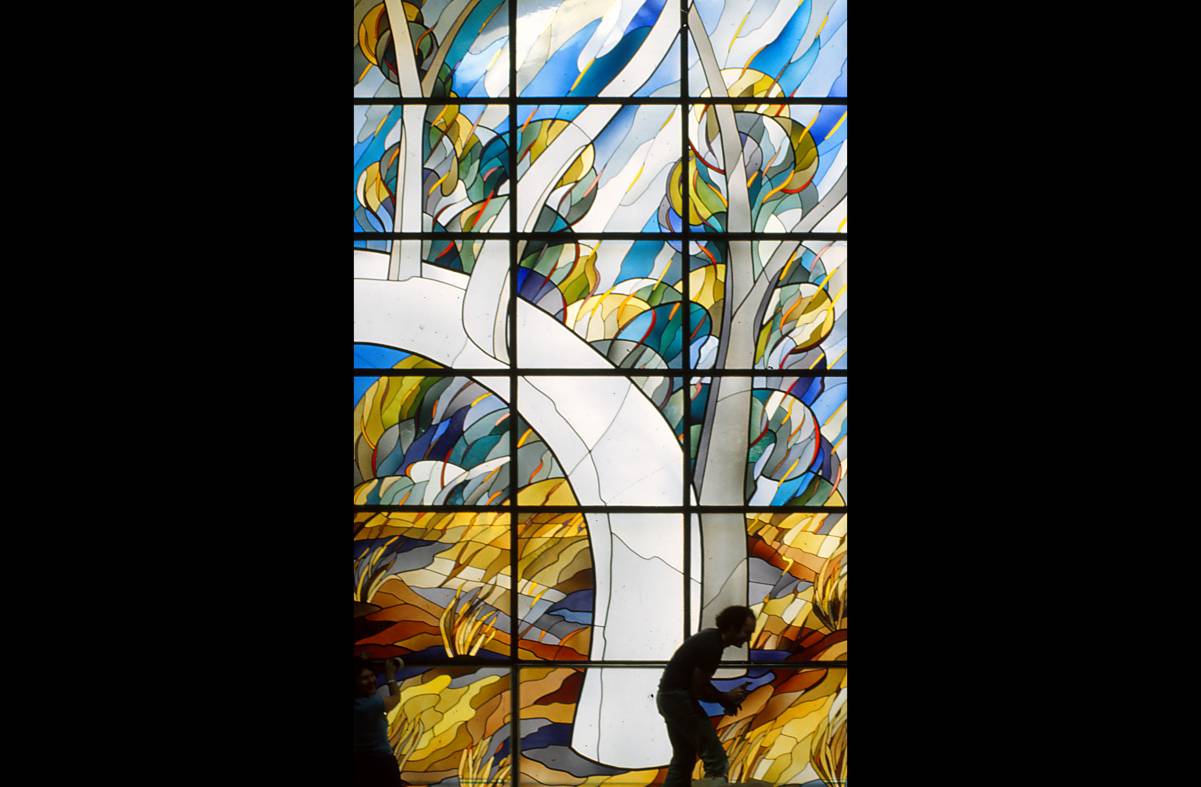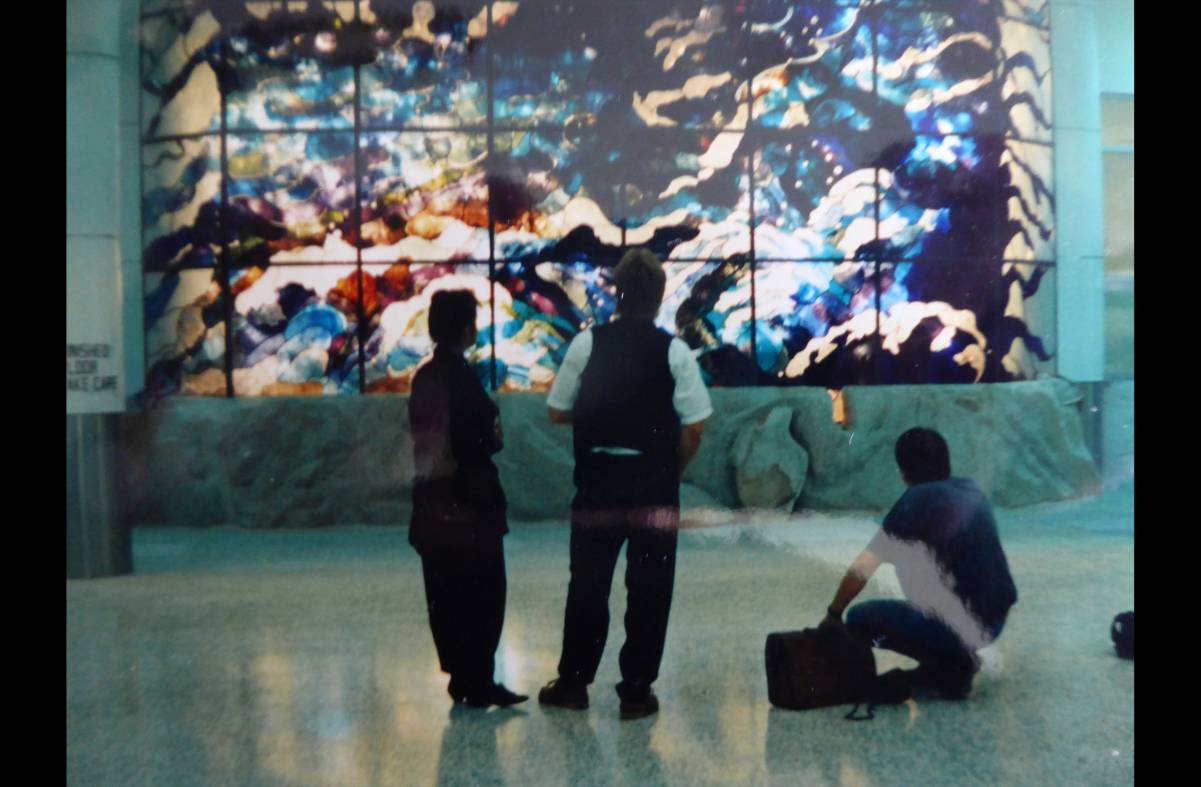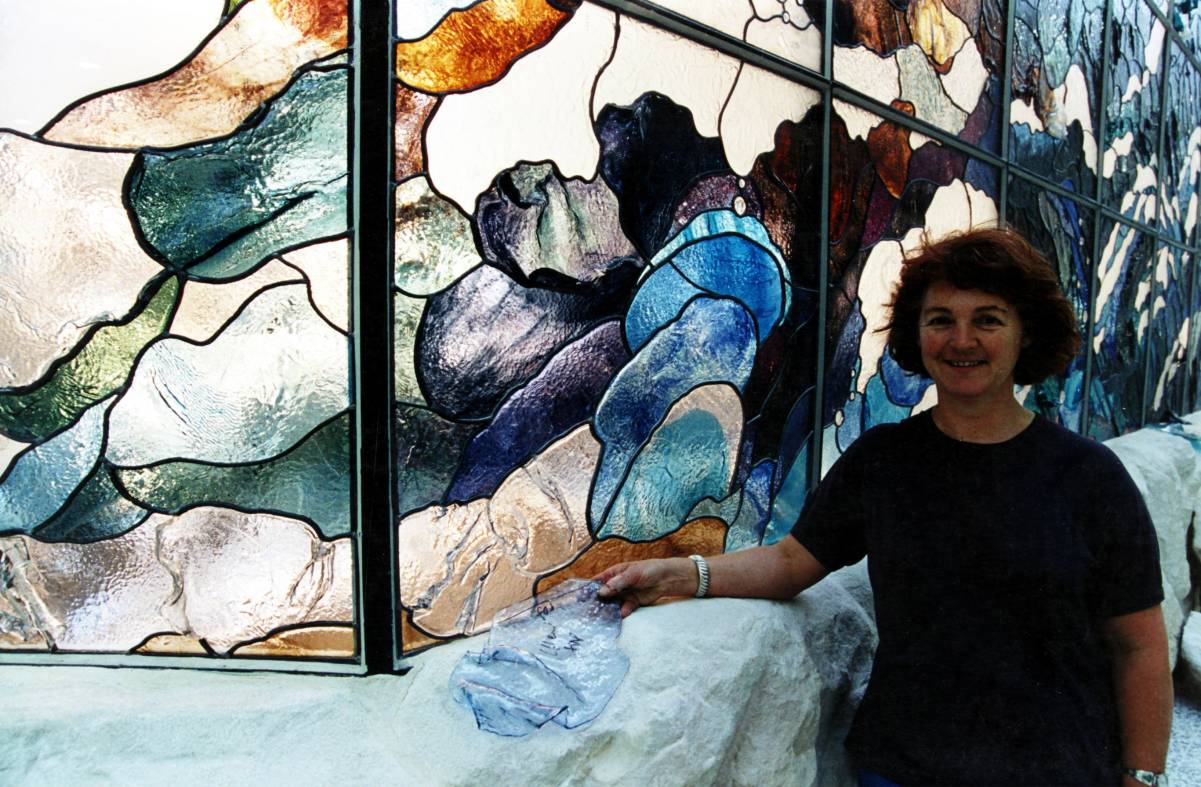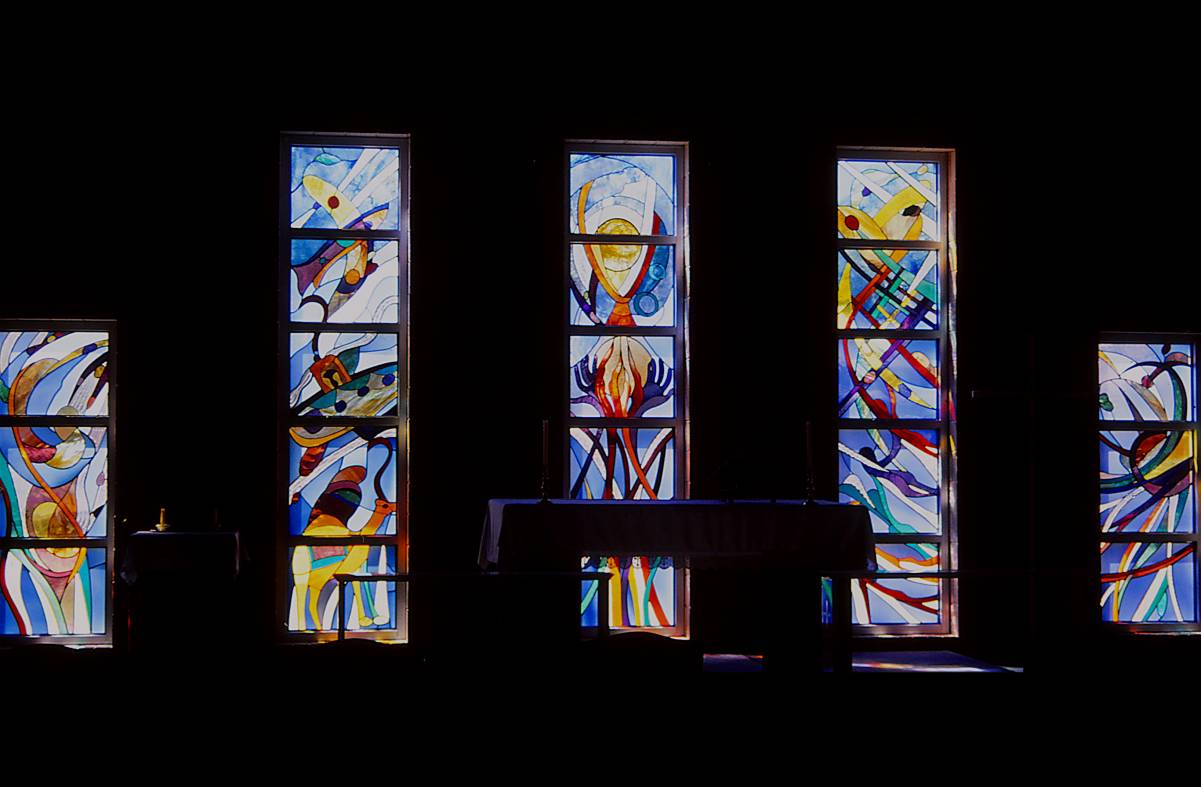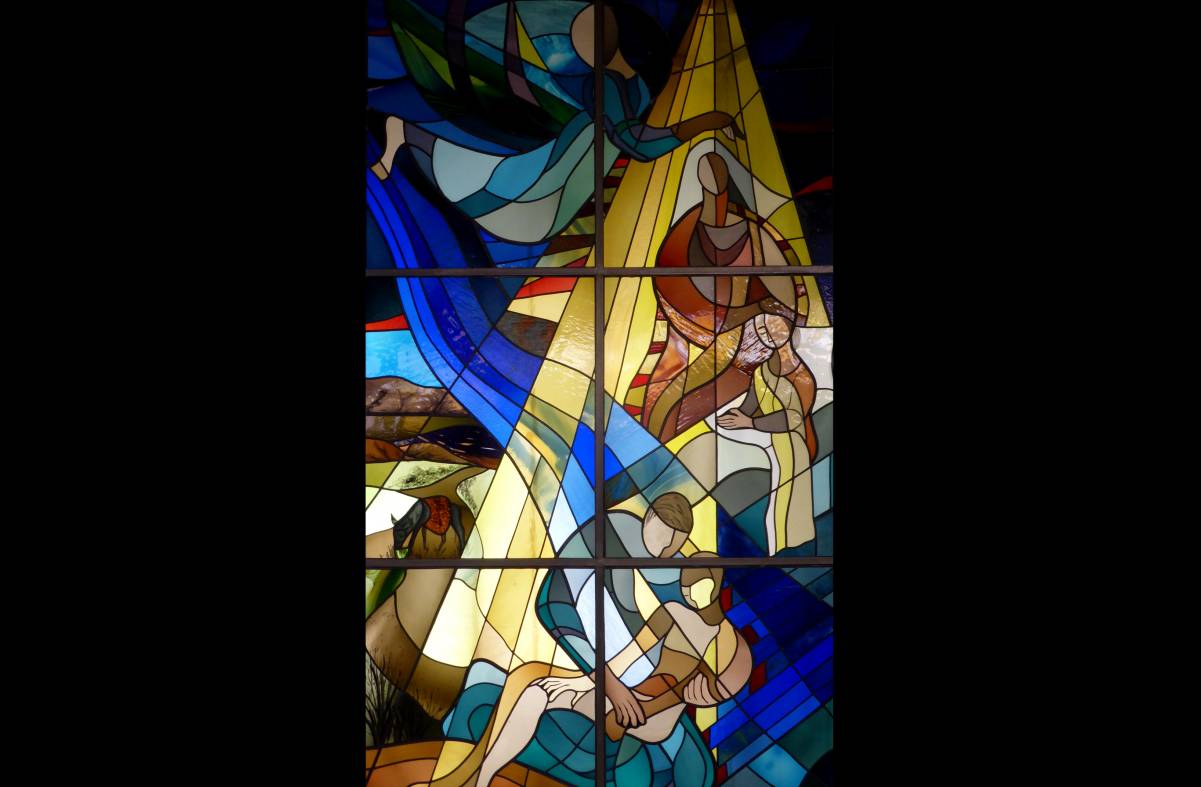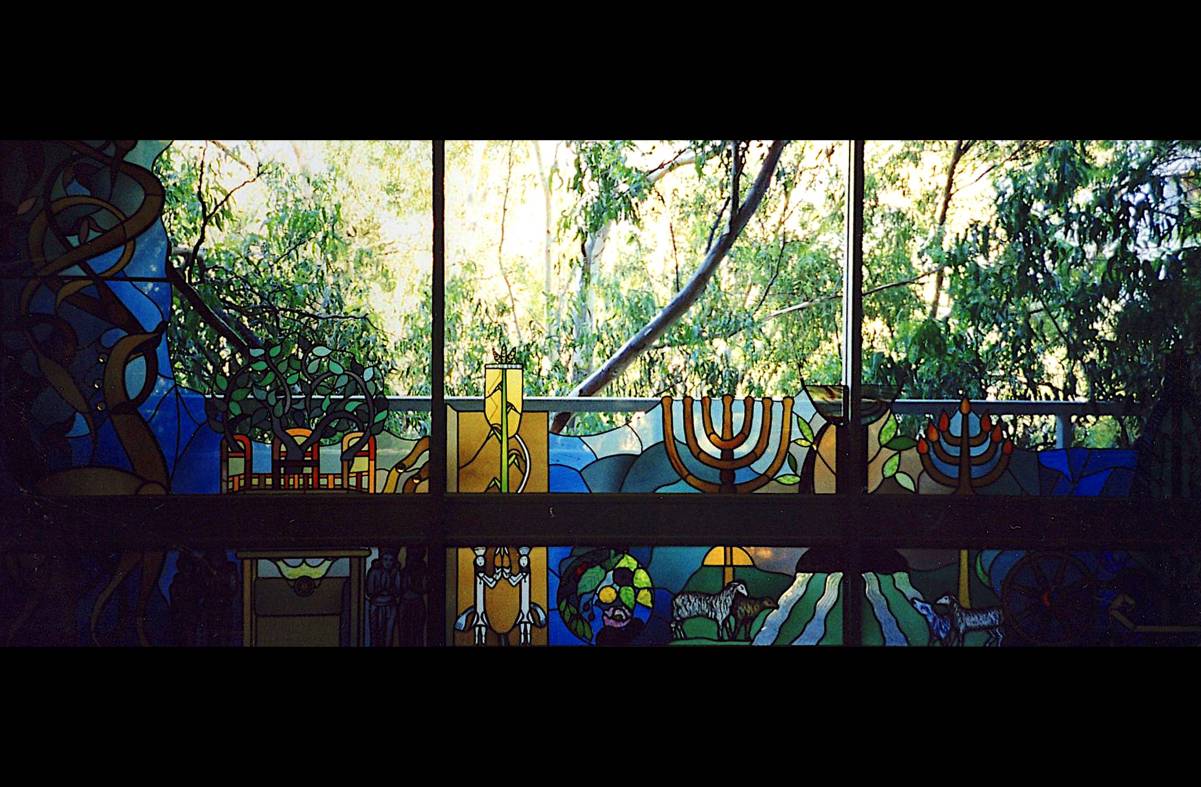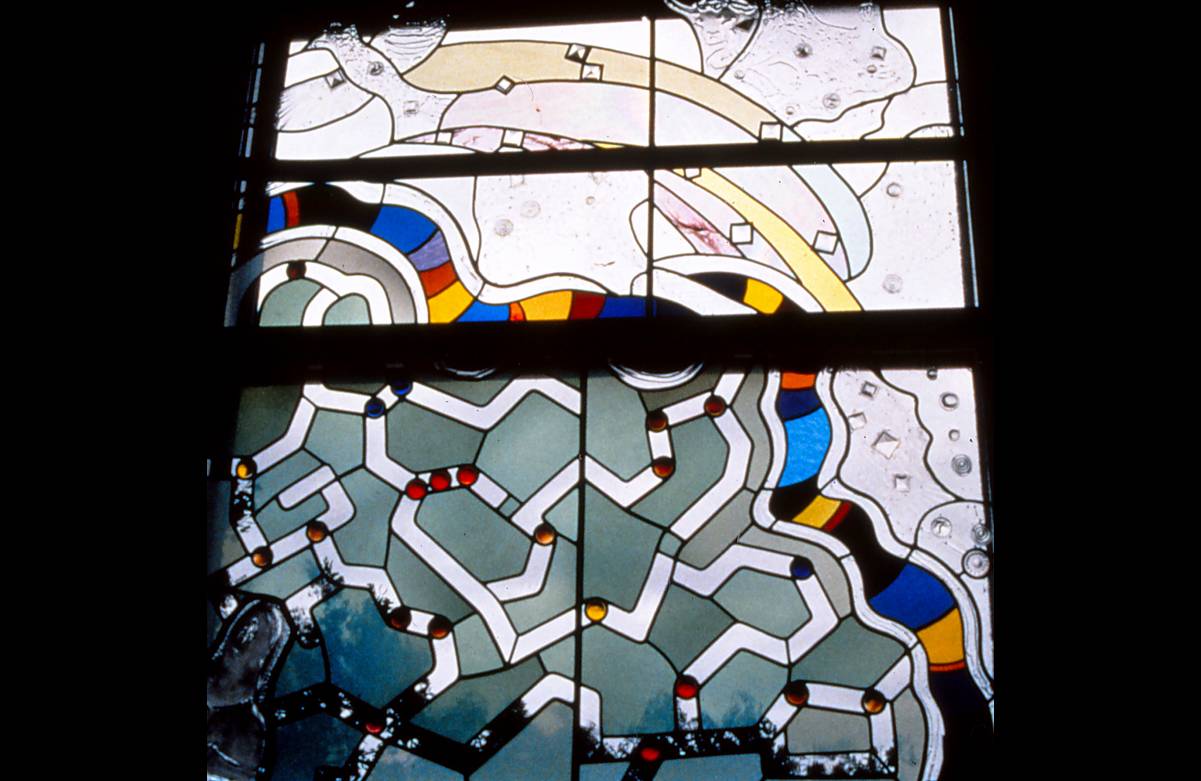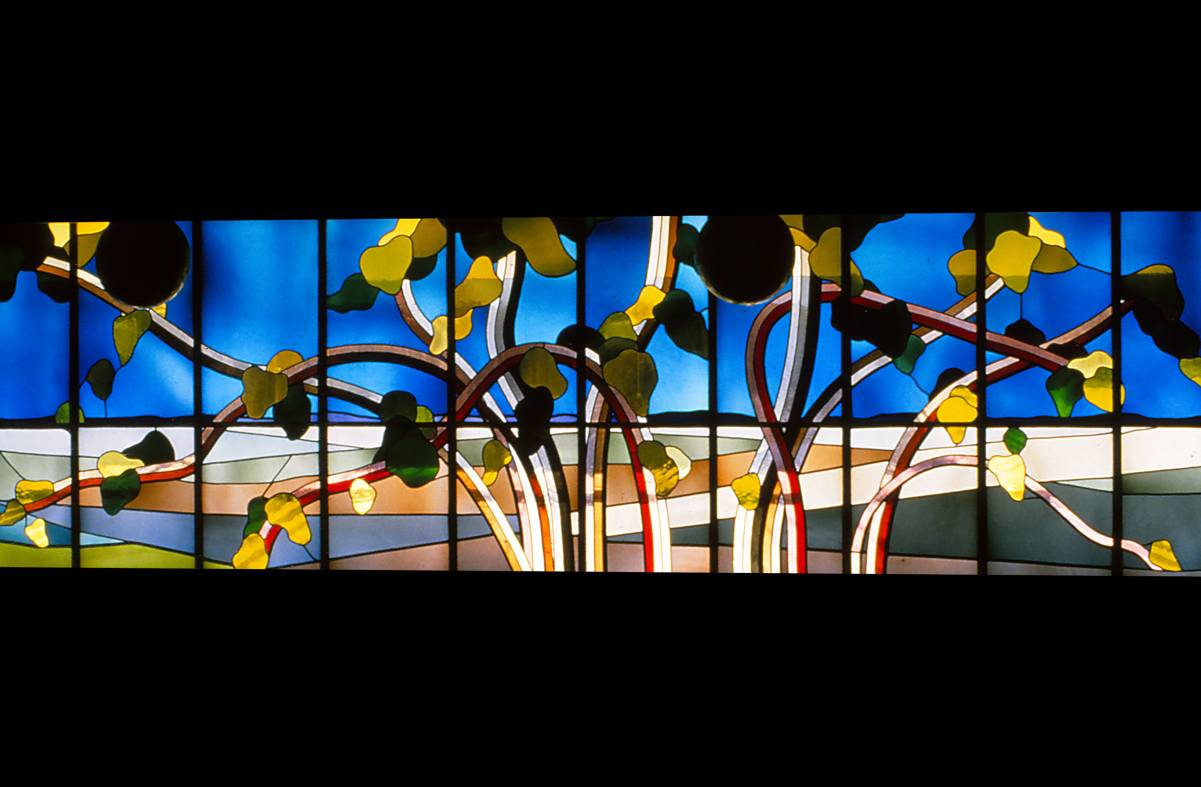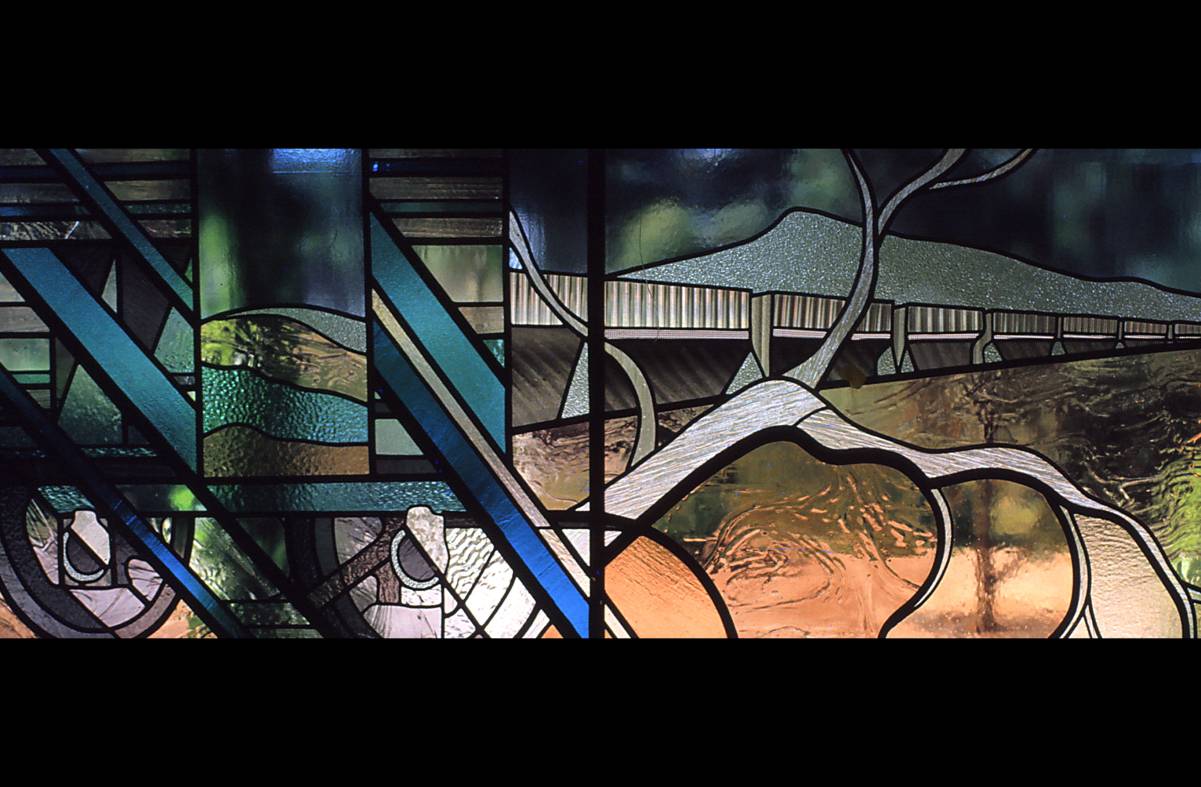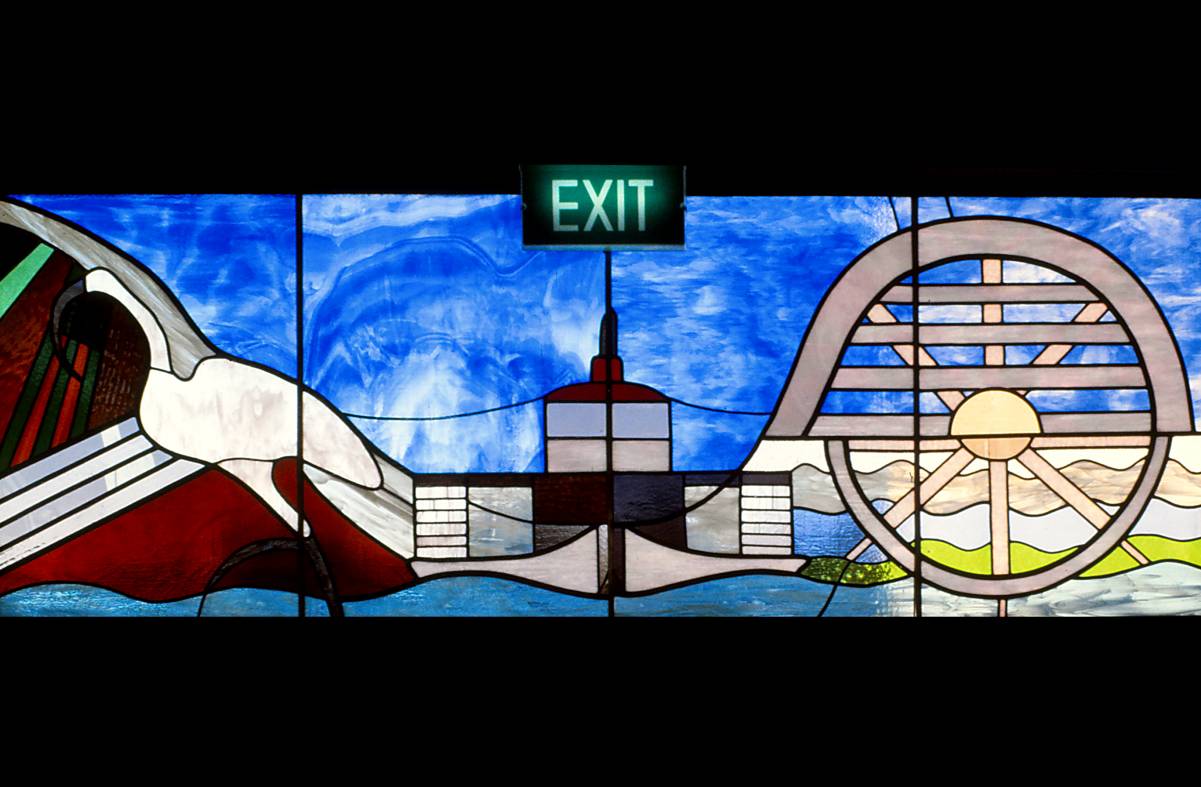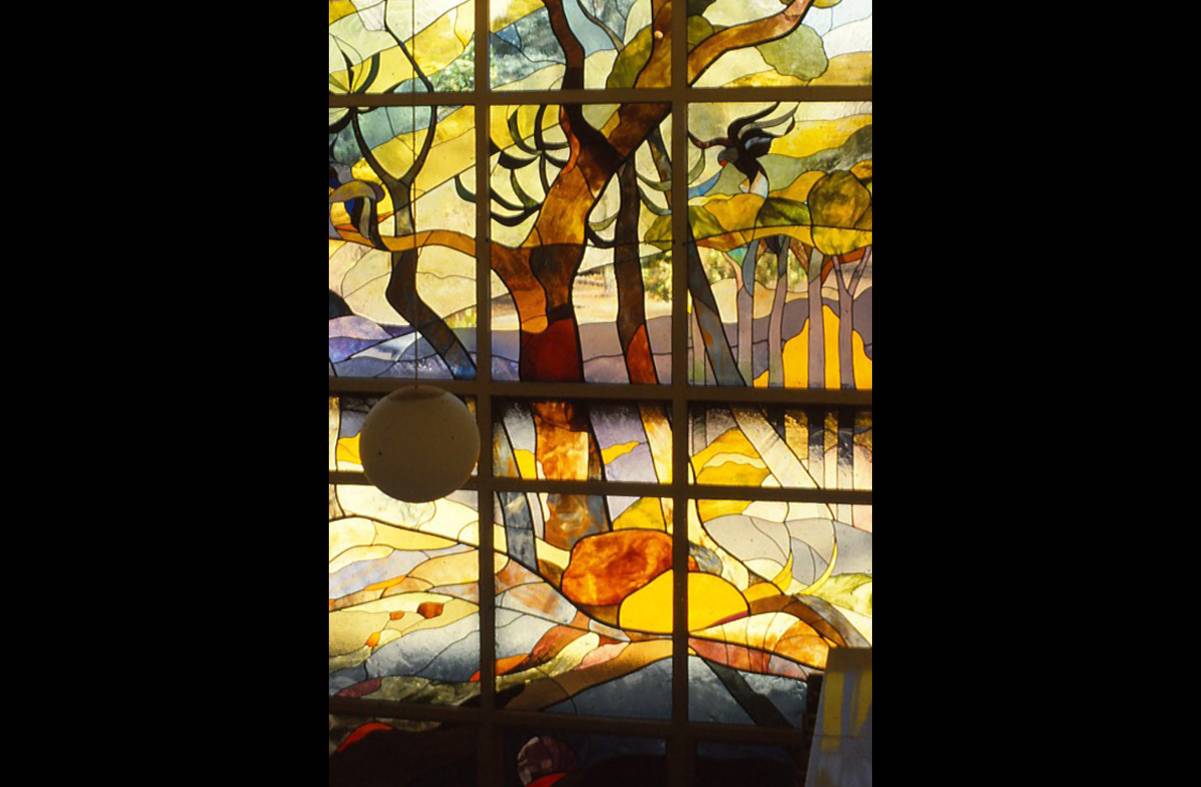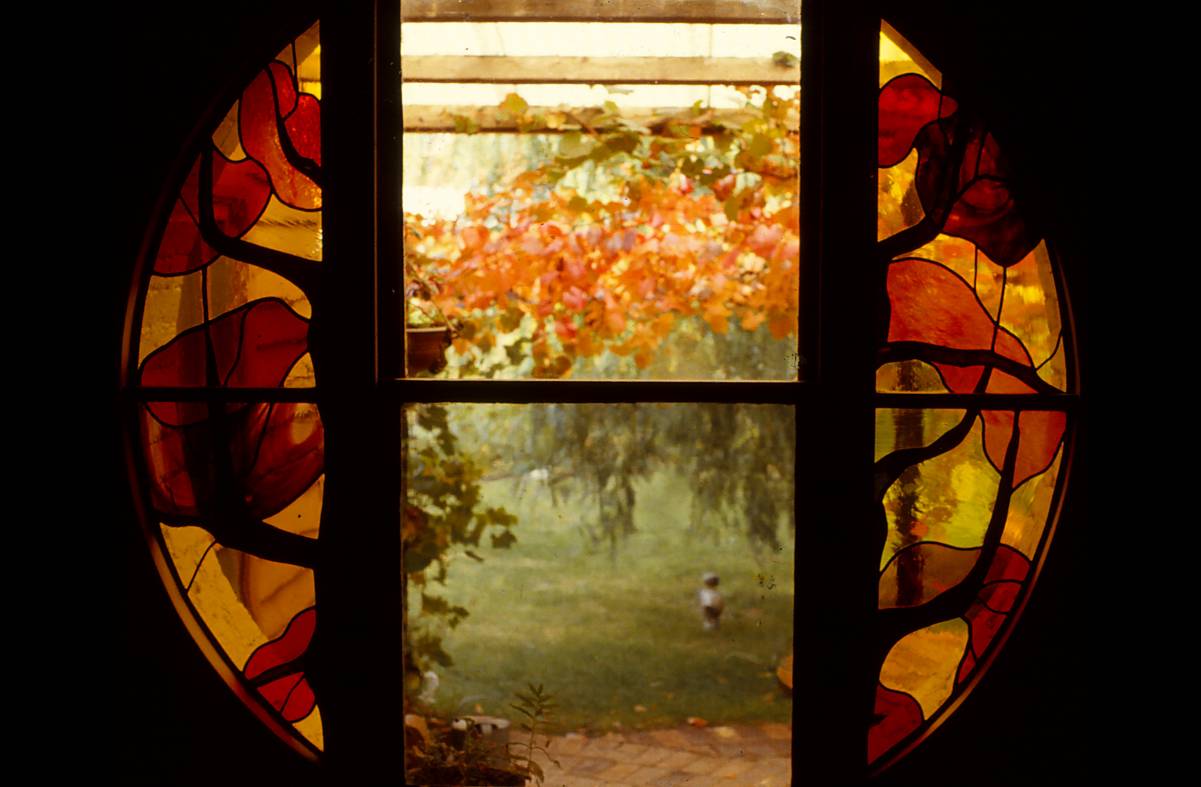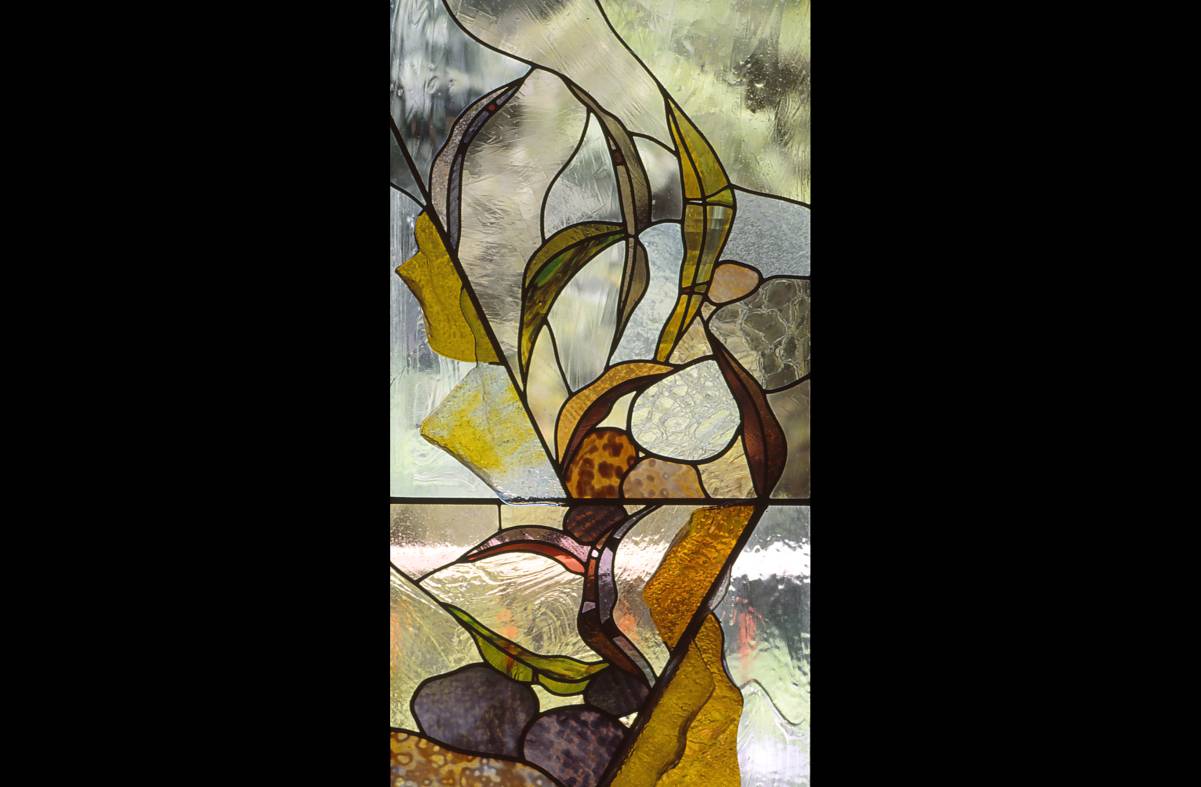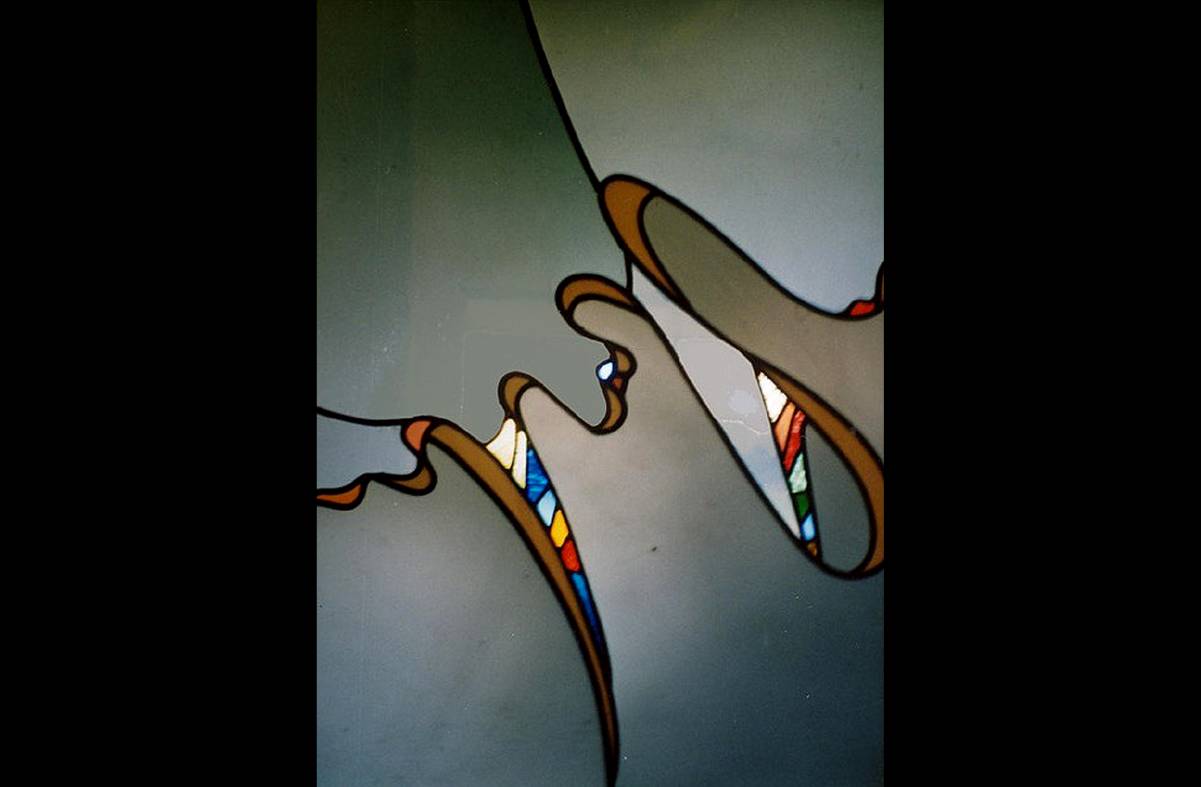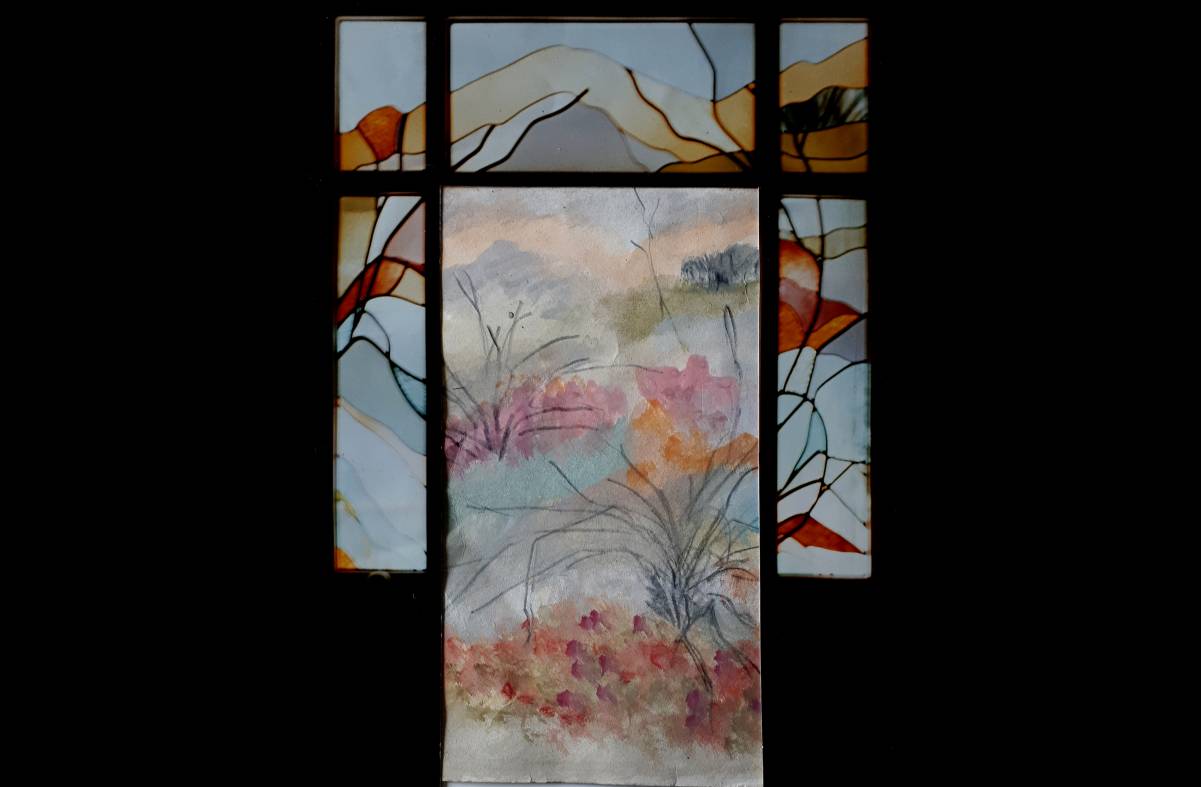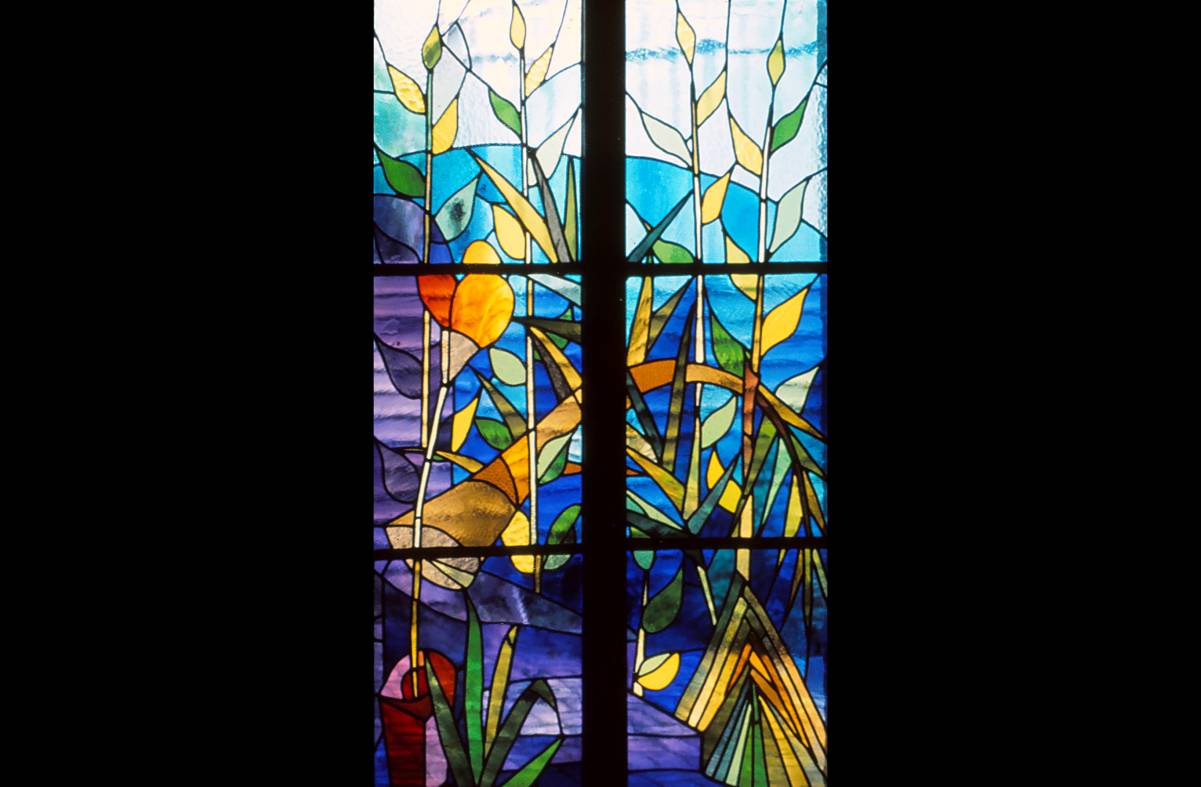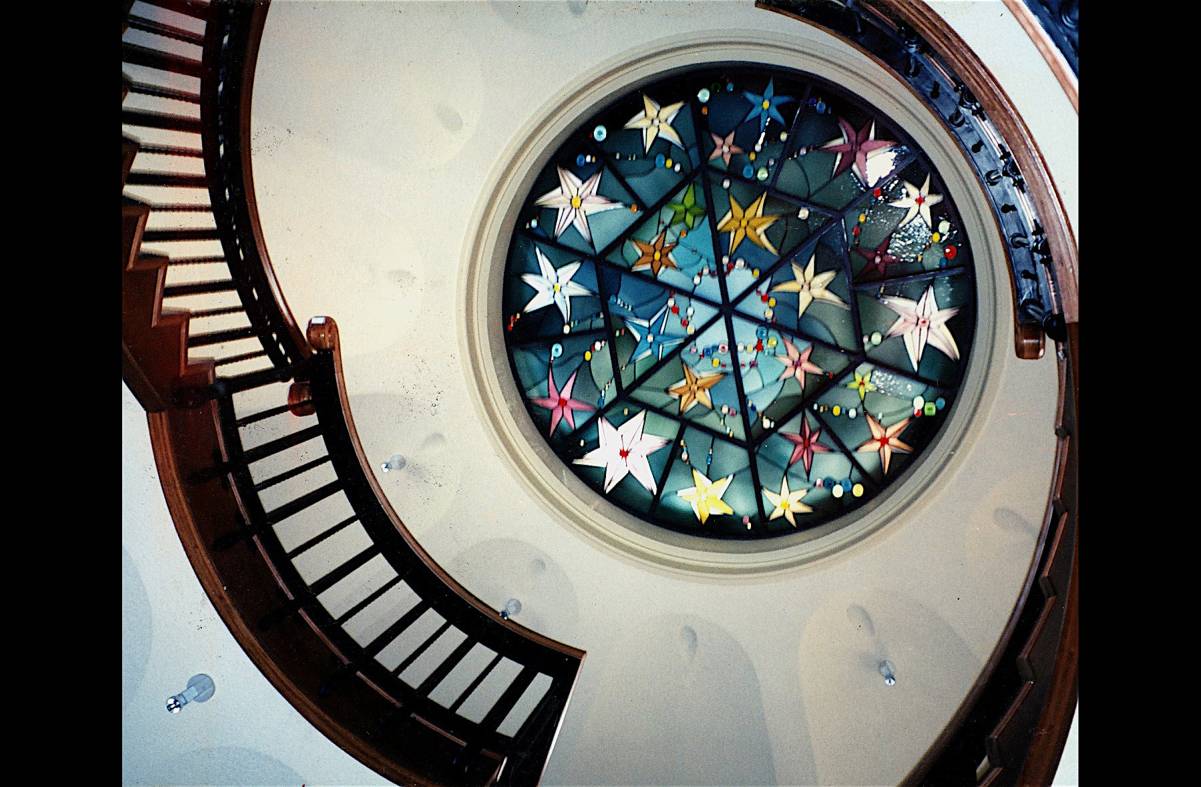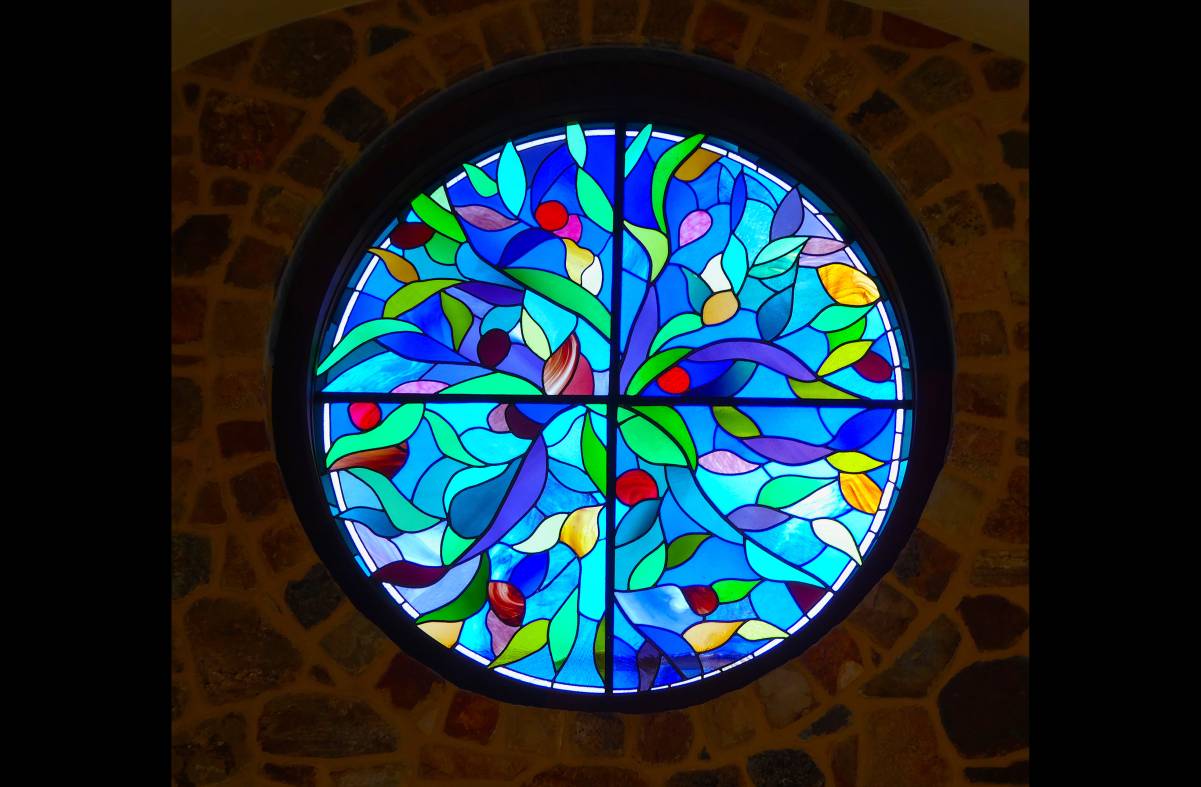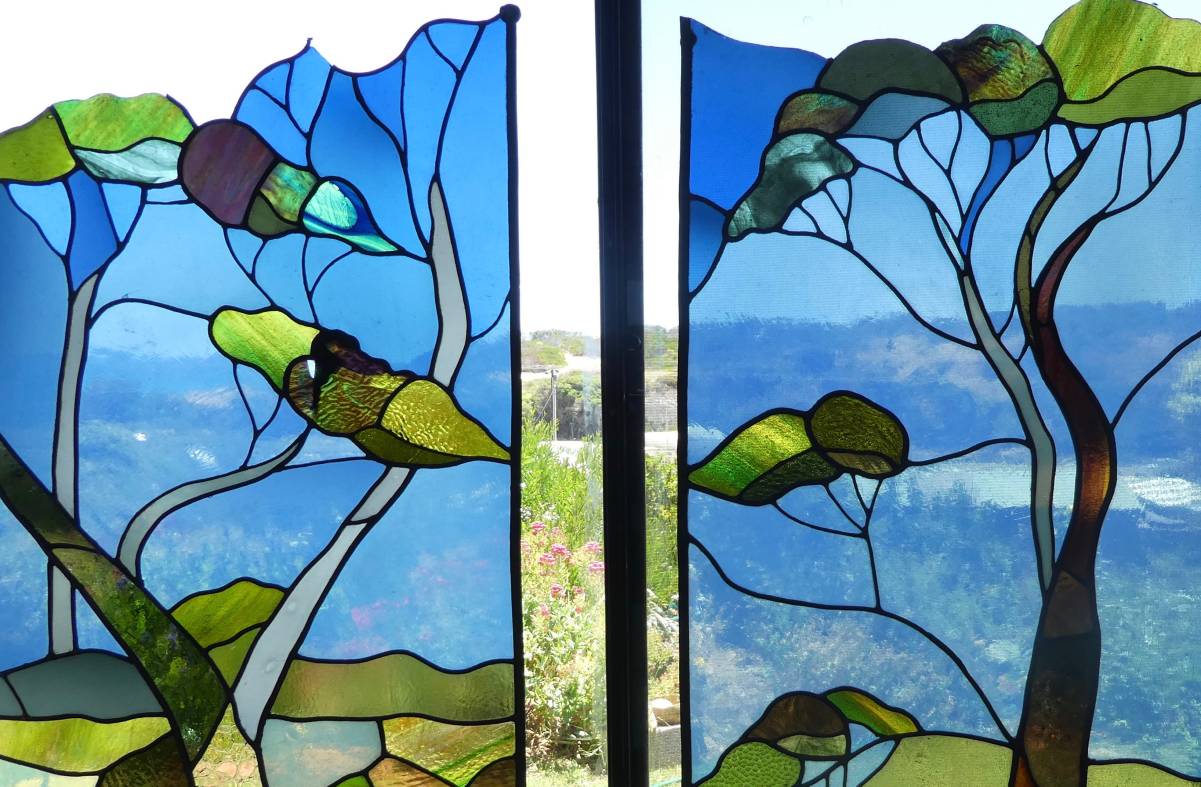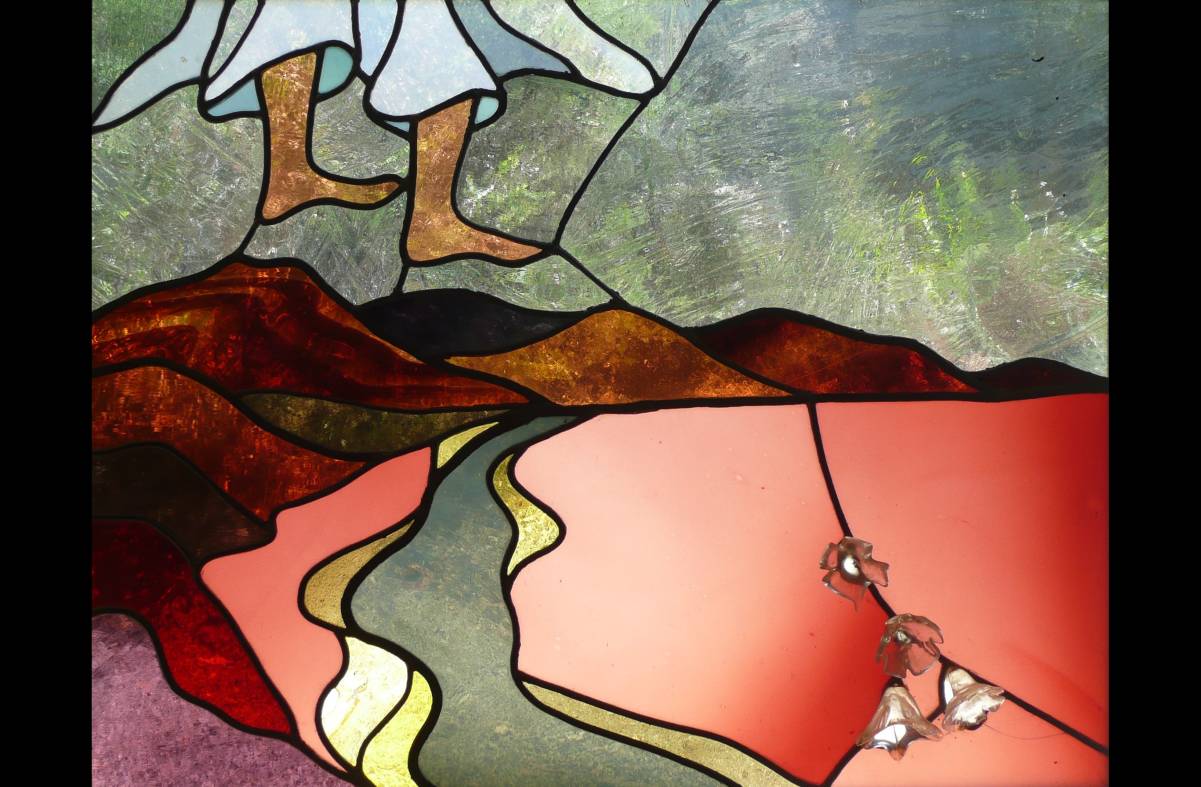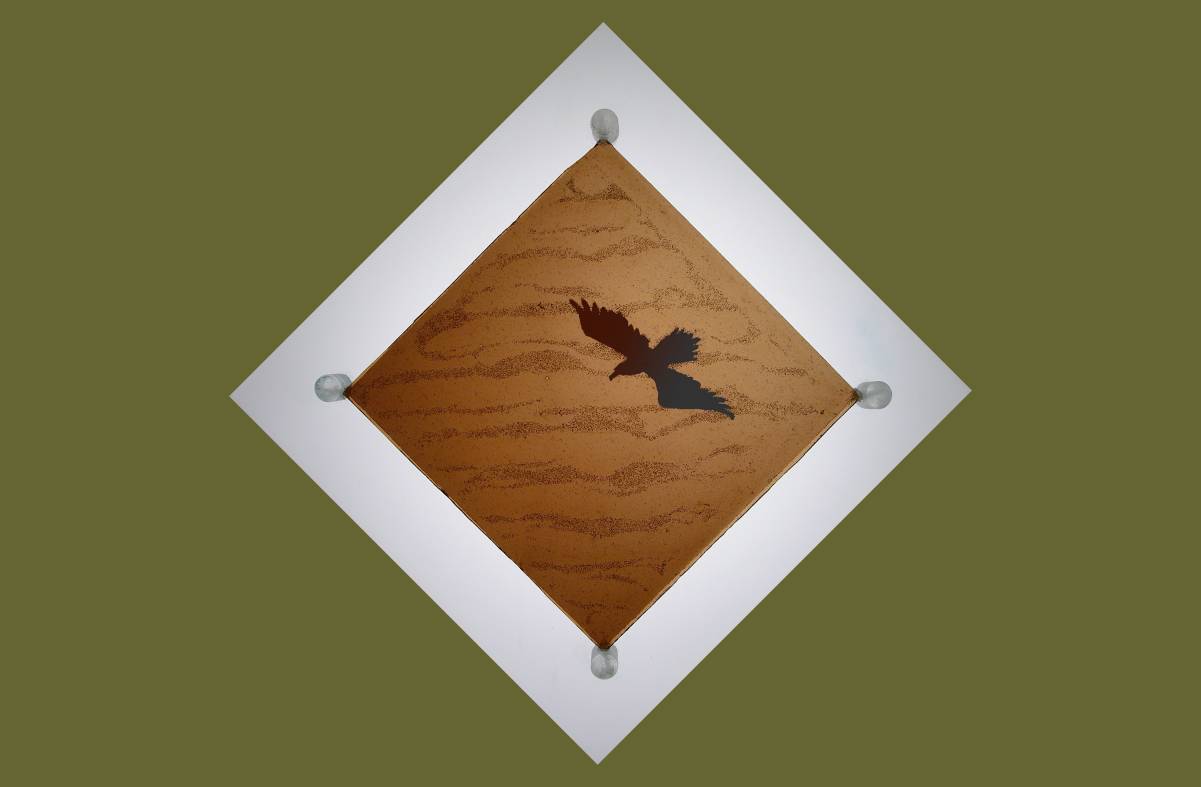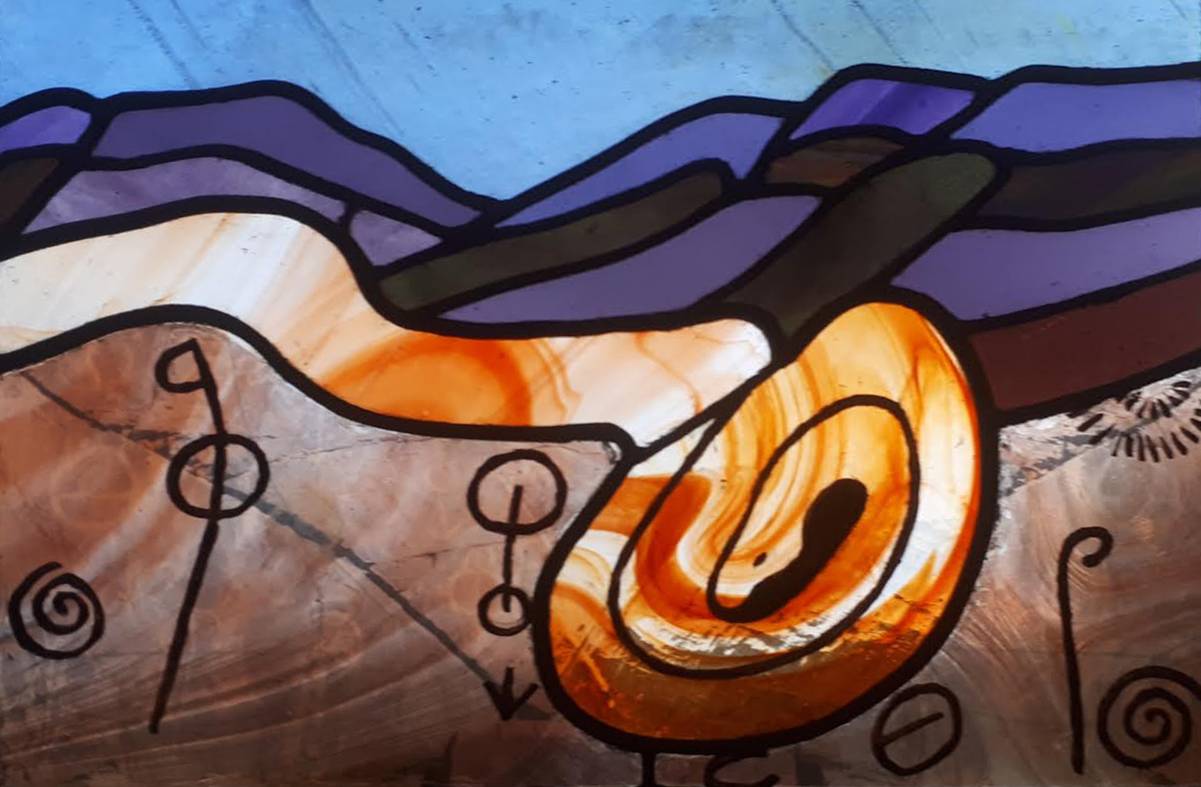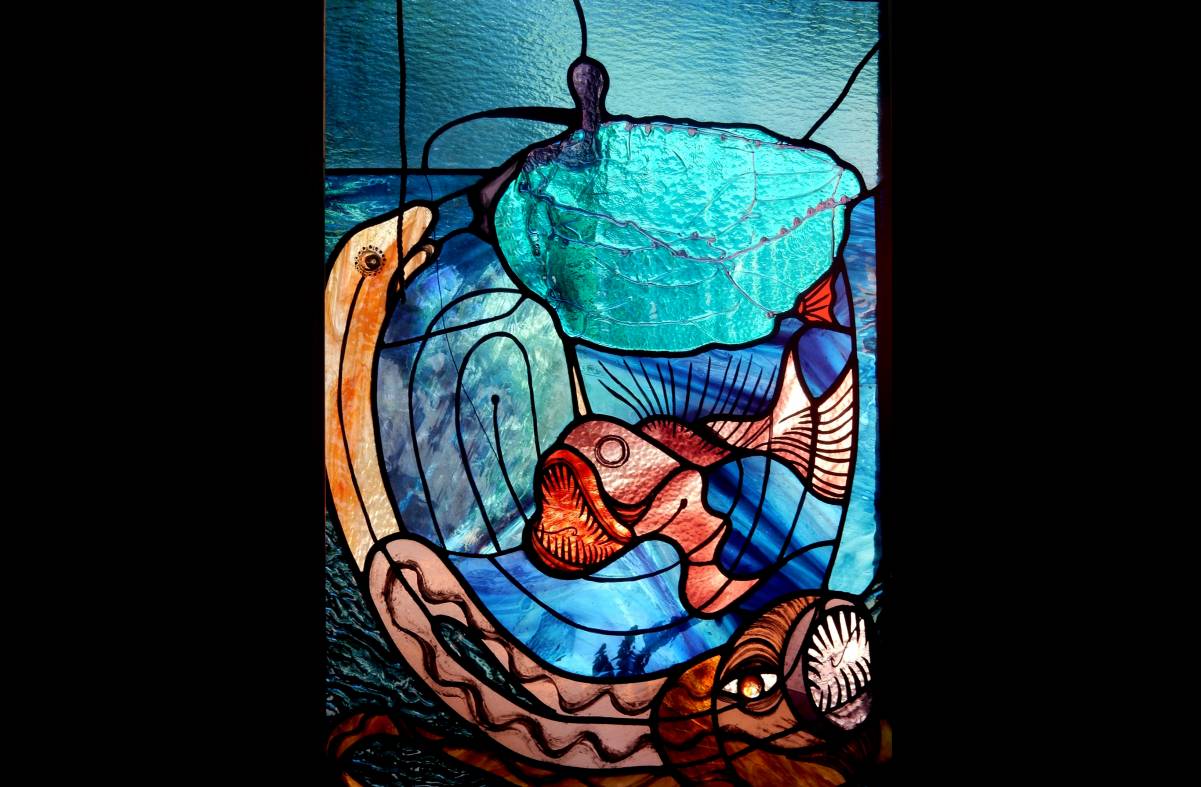 St Phillips, Somerton Park (1972)
St Kevin's Eastwood 1994)
St Kevin's Eastwood ( 1994)
The Promised Land , clerestory St..Peters Cathedral (1992)
Autumn Winds of Change (1992)
Foyer window for Austmark now Australia Place William St. Perth. (1982)
Foyer at Sydney International Airport (1992)
Detail Sydney International Airport foyer window. (1992)
Walford School Chapel, Unley (1990)
Royal Adelaide Hospital Chapel (1982)
Flinders Medical Centre, Flinders Park (1999)
Old Children's Hospital, Sydney (1991)
Parks Library, Mansfield Park (1979)
Middleback Theatre, Whyalla (1986)
Chaffey Theatre, Renmark (1983/4)
Kalamunda Library window , Banksia at western end. (1987)
Dining Room Window, Medindie (1978)
Waite Institute Entry, Myrtle Bank (1988)
Meditation and Massage room
Myrtlebank front door surround.
Bedroom French Doors, Leabrook (1972)
Ceiling for Avalon in Aldgate
Riverside Gums Horsham. (2017).
"The Muse Departs", Exhibition Panel (1990)
International Women's Workshop Exhibition GIG, Sydney (2006)
Snake Dreaming Flinders Ranges (2018)
Fishing in the labyrinth (2007)