Welcome to my world.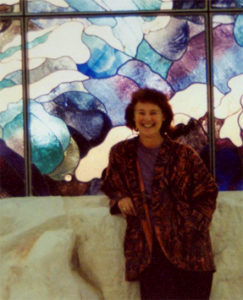 I love glass and all the things that you can do with it. There really is no end to invention, and much is sparked by the offer of a new challenge to my imagination.
Why live and work in cold grey places when a good designer can create you a warm happy space? Stained glass has become a "lost art" because it's not being created to enhance the light entering your particular window. You need a theatrical lighting director not someone to hang a pretty picture!

Cedar Prest is an Australian BA.Dip ed.Melbourne with Post graduate in Stained Glass from Hornsey College of Art London.Studio experience with Lawrence Lee and Patrick Reyntiens. Design workshops with Schaffrath, Schreiter and Poensgen.
A highly skilled and practiced professional with 52 years' experience in all aspects of glass project,design and management. She has directed large and complex projects in all States (Sydney International Airport) and instigated the worlds first glass community projects teaching volunteers to create large scale public Artworks for Parks Community Centre, theatres at Renmark, Whyalla, in SA and Araluen, Alice Springs and the Kalamunda library WA. There is a consistent history of working in schools like Pembroke (chapel), Loretto (art room later Labyrinth) Barossa Special school.
Through client, architect and community consultation and workshops, she creates artworks that respond specifically to the landscape, history and function of the building and potential for projected " light atmosphere".
Since her Churchill Fellowship in 2003 she has become a trained labyrinth facilitator and designer/maker of in ground labyrinths and painted canvas portables for e.g. Darwin and Brisbane Cathedrals, numerous schools and meditation centres. Visit www. labyrinthlinkaustralia.org for more.

glassworks_portfolio_featured